Introducing...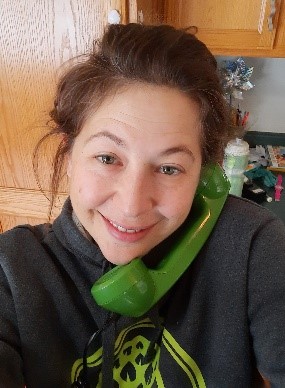 Lisa Andrewski [she/her/hers]
HelpLine Coordinator
Hello! I am happy to assist you with your inquiries on the Journey North Helpline. I love taking all your interesting questions and comments! It has been a real joy getting to know Journey North Volunteers these past couple years I have been involved with the program. I look forward to reading all of your helpline inquiries as they come in—thank you Journey North Volunteers!
A Wisconsin-native, Lisa has been working at the UW-Madison Arboretum since 2013 in a variety of capacities. She leads ecological tours, teaches classes, and provides support to the Arboretum in a myriad of ways.
Lisa is a Wildlife Ecologist, Naturalist, Program Manager, and Educator. She received her bachelor's degree in Wildlife Ecology and Environmental Studies from UW-Madison in 2015.
Lisa loves all things nature and has too many hobbies to keep up with! Raising happy chickens and ducks for organic eggs, restoring prairie, reading, writing, and honeybee keeping are just a few of the ways Lisa likes to spend her time.
Lisa joined Journey North in 2020.