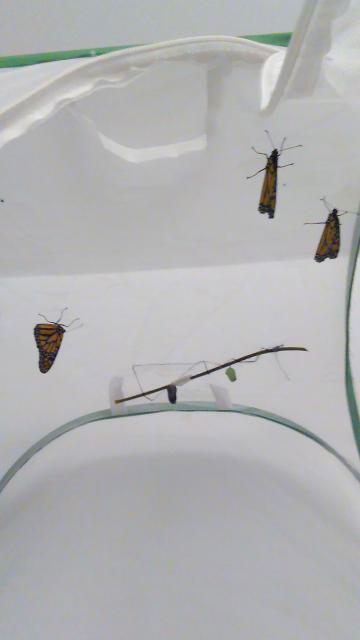 Date: 01/14/2018
Number: 1
Another male came out of its cocoon while I was at work.

Recap: 1/12/18 one male monarch butterfly, 1/13/18/ one female monarch butterfly, and 1/14/18 one male monarch butterfly.

I still have seven cocoons hanging some monarch and some queen. I am having to keep a close eye on them as some of the cocoons had fly larva in them and I lost them :-(

Also still have three monarch catipillars (two older and one young) . They are eating cucumbers as the Ice Storm wiped out all the milkweed (even the ones covered) in my yard and all the plant nurseries near by. If there is anything else I can feed them please let me know.

I bought some dianthus and snapdragon to place in the cage for the butterflies. I have also placed some orange and nectar in the cage that I change out everyday, but I have not seen the butterflies drink anything.
Hilliard, FL
Latitude: 30.7 Longitude: -81.9
Observed by: Stephanie
Contact Observer
The observer's e-mail address will not be disclosed.
Contact will be made through a web-based form.