Date: 03/13/2018
Number: 75
I'm the Naturalist at South Padre Island Birding & Nature Center.

A cold front at the beginning of the week seemed to have stalled migration and dropped lots of Monarchs all over South Padre Island. I saw them fluttering around everywhere I went on the island. At the birding center, I saw more than 20 at a time on different corners of the sanctuary. In the evening I saw several small clusters roosting in the mangroves and in the trees surrounding our building. Didn't get any photos of the small clusters roosting.

They stuck around for a couple of days. Once the winds shifted, coming from the south again, most of them left. I noticed very few of them today (3/18) compared with earlier in the week. SPI is like a big monarch waystation and at times we can see large concentrations during the fall migration time. Quite a spectacle to witness!

I estimate I saw around 75 maybe a few more. From my experience, I'm not used to seeing that many Monarchs here during the Spring, so I was pretty surprised to see them in these numbers recently. The largest Spring migration I've seen here.

I've never witnessed roosting behavior before, I saw a couple of clusters, not many.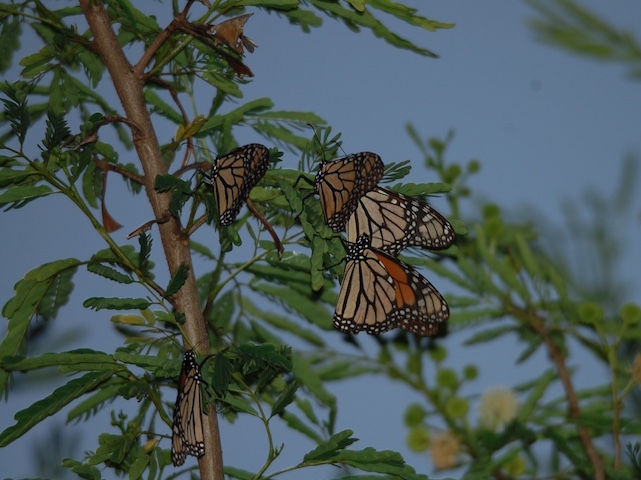 South Padre Island, TX
Latitude: 26.1 Longitude: -97.2
Observed by:
Contact Observer
The observer's e-mail address will not be disclosed.
Contact will be made through a web-based form.