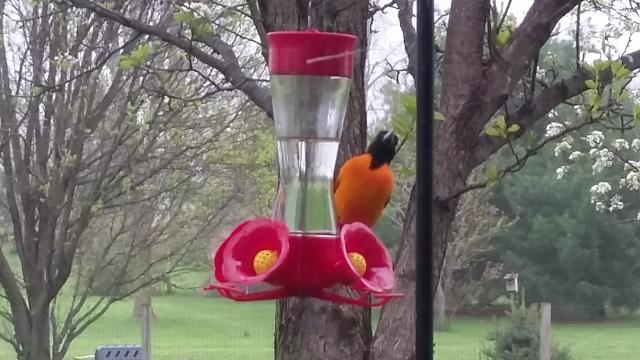 Date: 05/02/2019
For the last ten years our Baltimore Orioles have shown up from May 5th or later. Normally that is three to five days after our sighting our first Ruby-throated Hummingbird. So much for that thinking as today May 2nd, one day after seeing our first Ruby-throated Hummingbird, a pair of Baltimore Orioles appear trying to get mixture from the hummer feeder. I quickly whipped up some oriole mixture for the oriole feeder, cut a few orange slices and put them on a tray along with some grape jelly. In a matter of a few hours we had what appears to be three pair of Baltimore Orioles hitting upon our offerings. The temperature outside was 50 degrees with 95 % cloud cover predicted for most of the day. Winds were about 4mph out of the NNE.
Kendallville, IN
Latitude: 41.5 Longitude: -85.2
Observed by: Michael
Contact Observer
The observer's e-mail address will not be disclosed.
Contact will be made through a web-based form.