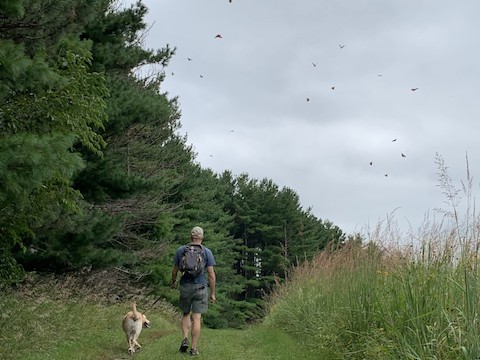 Date: 09/08/2019
Number: 1000
Saw monarchs roosting in pine trees along trail in Kent Park and in meadows nectaring about 3pm Sunday afternoon during a hike. It was cool and drizzly. There were at least hundreds (if not thousands) A sight to behold.

Editor's note: contacted observer for more details on this sighting

The monarch gathering was witnessed Sunday 9/8/19 from 2:30-4:00 p.m. on a cool, drizzly day. The high temp was about 70 degrees. The previous night was in the 50's and there were storms. Not much wind. There was protection from wind and rain.

The monarchs were along a row of pine trees lining a hiking trail at F.W. Kent Park where my husband and I were hiking with our dog. They were not congregated all together but rather scattered along the line of pine trees. On the other side of the trail is reestablished prairie full of flowers. It was a great location! Protection on one side of the trail and nectar in the other!

I estimated the number based on seeing monarchs flying off of tree after tree, as we walked past. In addition, we saw about a half dozen small resting spots. For sure we saw hundreds of butterflies.

We noticed them creating new resting spots in the pines when we were walking out.

I've been raising monarchs for years so this was quite a thrill to see.


Kent Park, IA
Latitude: 41.7 Longitude: -91.7
Observed by: Alice
Contact Observer
The observer's e-mail address will not be disclosed.
Contact will be made through a web-based form.