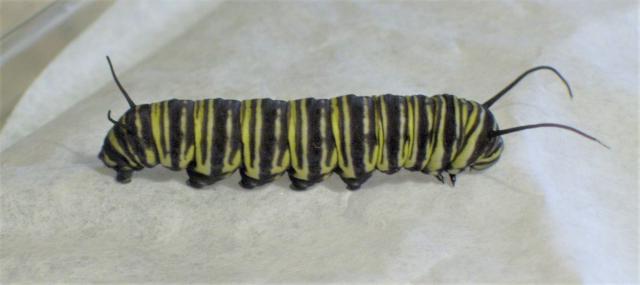 Date: 10/26/2019
Number: 1
Monarch Waystation #271 reports the surprise of finding one last [?] thick-striped 5th instar resting on a purple milkweed sprout in the front yard about 11:15 am while clearing dead plant stems. I'd tagged and released the last batch of reared monarchs yesterday, even cleaned and stored the rearing gear for next year. Brought in the caterpillar and set up a bin in case I found more but did not. It rested for a bit, didn't bother to eat the leaves proffered, just did a "walkabout" on the lid and looks like its getting ready to spin a silk pad and pupate. This one's "got a long way to go and a short time to get there."
Newport News, VA
Latitude: 37.1 Longitude: -76.5
Observed by: Judy
Contact Observer
The observer's e-mail address will not be disclosed.
Contact will be made through a web-based form.