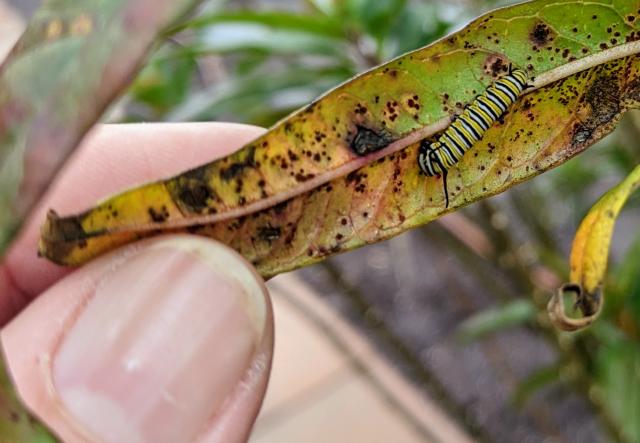 Date: 11/20/2019
Number: 12
We didn't see many monarch adults through the garden this fall migration, but we obviously had a few visitors. Some of our milkweed is looking a little rough and I was getting ready to cut it back, but the JMG students checked it to see if we had any caterpillars and we found about a dozen in early instars. The one in the pic is the largest we found so far. We are supposed to have fairly mild temps in the next 10 days, so I'll wait until after the first week of December to cut back the milkweed, which we currently have PLENTY of.

The monarchs seemed to really hug the coast from the eastern flyway this season. A friend saw hundreds roosting in trees and bushes outside of her home in Galveston about 10 days ago.
Houston, TX
Latitude: 29.8 Longitude: -95.6
Observed by: Shari
Contact Observer
The observer's e-mail address will not be disclosed.
Contact will be made through a web-based form.