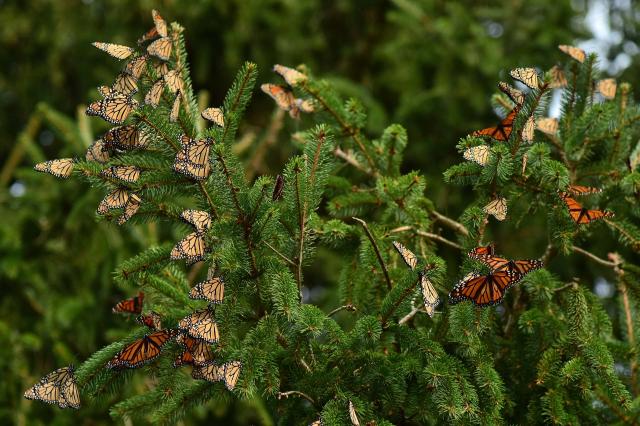 Date: 09/13/2020
Number: 250
Tanner Pettit counted 250 monarchs at Goose Pond Sanctuary, W7503 Kampen Road on September 13 from 6:45 - 6:53 p.m. with light winds that were variable out of the west, mostly sunny and 64 degrees.

70 monarchs were on the East side of the windbreak in the white pine.

180 were just west of the powerline, on the South side of the spruce in an area protected from the West, North and Northeast winds.

Jim Otto tagged 40 monarchs that afternoon in our prairie and most were nectaring on showy goldenrod.

Photo by Kurt Westbrook taken of the roost at 8:00 a.m. on September 14th.
Town of Arlington, WI
Latitude: 43.3 Longitude: -89.4
Observed by: Mark and Sue
Contact Observer
The observer's e-mail address will not be disclosed.
Contact will be made through a web-based form.