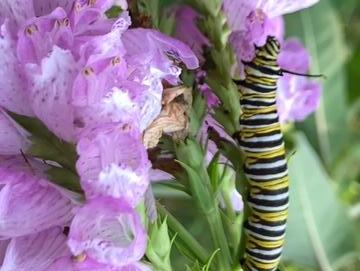 Date: 09/09/2020
Number: 12
All of these hatched at my mother's home in Rocky Face, GA. She seems to have been in their direct path this year bc usually I get visitors in the fall and she doesn't get any-this year the tables turned. I didn't have any. There is a small mountain between our homes so I decided that they came up her side of the valley for a change. We couldn't count them all. A few small, perhaps 2nd instar but the rest were larger. Several got attacked by tachinid flies but she had so many that it didn't devastate them all. Her main issue was that most of her milkweed has dried up due to lack of rain. She now has around 6 chrysalis, and I have 1.
Rocky Face, GA
Latitude: 34.8 Longitude: -85
Observed by: Melissa
Contact Observer
The observer's e-mail address will not be disclosed.
Contact will be made through a web-based form.