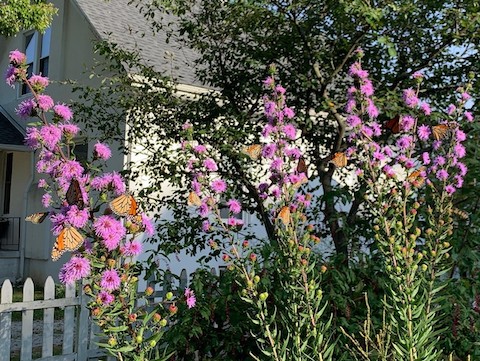 Date: 09/15/2020
Number: 32
We've had a progressive increase in monarchs visiting our Liatris scariosa var nieuwlandii in the front garden the last 3 days

They usually don't appear out on our Liatris until late morning when the sun hits it. I don't see them flying in or out from a certain direction; however, they do seem to rest in the silver maple directly on the corner of our street.

Other plants they are often seen feeding on are our planted zinnias, Jerusalem artichokes, occasionally on the Canada goldenrod, and our Cup Plants (Silphium perfoliatum) although those have been done blooming for about a week. We have quite a lot of native plants in our urban yard and at least 5 species of milkweed. We didn't see many caterpillars at all this year except for a handful (7 or so) on our common milkweed and two on our Asclepias sullivanti.
Champaign, IL
Latitude: 40.1 Longitude: -88.2
Observed by: Sara
Contact Observer
The observer's e-mail address will not be disclosed.
Contact will be made through a web-based form.