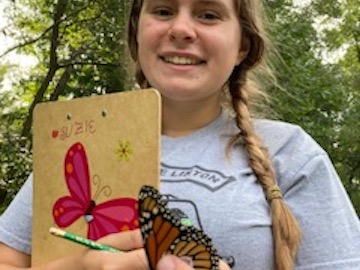 Date: 09/13/2020
Number: 300
Tagging monarchs again this year, typically 1-5 each outing. On Sunday September 13 we tagged 56!! They were everywhere on our farm. Just awesome. Tonight we tagged 3.

The report is based on estimated sightings. The sightings were over a period of about 6 hours in the afternoon. We were tagging butterflies and captured and tagged 56 individuals. Most were nectaring on goldenrod. Winds were calm, less than 5mph. Temperatures were were in the low 80's, and it was sunny.
Sullivan, IN
Latitude: 39.1 Longitude: -87.3
Observed by: Deanna
Contact Observer
The observer's e-mail address will not be disclosed.
Contact will be made through a web-based form.