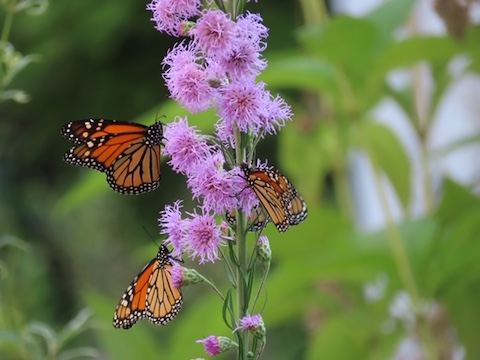 Date: 09/16/2020
Number: 75
Many Monarchs flying along the lakeshore today. The temperatures were in the mid to high 70's, and there was a light wind (10 MPH) from the north, We also tagged 30 Monarchs who stopped to nectar on the late bloomers in the Prairies on the bluff.

I sat on top of the observation tower for about an hour, and counted 67. They were definitely going south. The rest were while hiking and tagging. They were a mix of nectaring and flying high. We were there about 4 hours altogether.

In any case they were plentiful! Today (9/17) there were some, but not like yesterday (9/16)

I took this photo around September 5. The Monarchs Love Liatris..
Village of Bayside, WI
Latitude: 43.2 Longitude: -87.9
Observed by: moya
Contact Observer
The observer's e-mail address will not be disclosed.
Contact will be made through a web-based form.