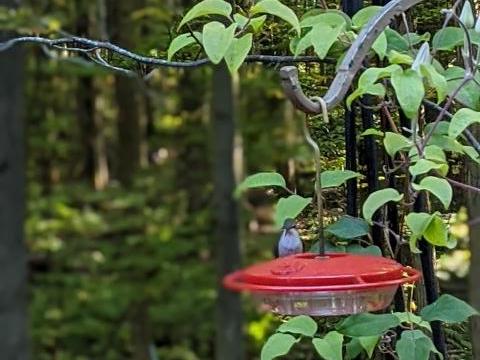 Date: 09/20/2020
Number: 12
Sunshine and 33 degrees, moving to 43 degrees as I type Hummingbird girls are continuing to enjoy a plethora of flowers.

The hummingbird in this picture is in the upper left portion of the pale blue clematis flower. She's been enjoying Cuphea,and the pink turtle heads planted below the feeder. Going back and forth and up and down between the flowers and "her" feeder. Most of our girls have favorite feeders :)

Based on past years, our residents and migrating guests will begin to start their journeys this week. Our last sighting is usually October 1st.
Sanford, MI
Latitude: 43.6 Longitude: -84.4
Observed by: Tilly
Contact Observer
The observer's e-mail address will not be disclosed.
Contact will be made through a web-based form.