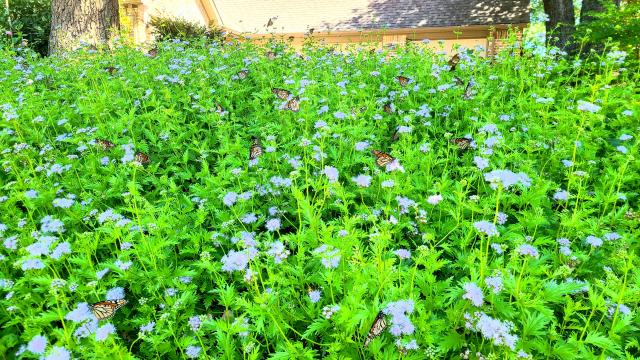 Date: 09/29/2020
Number: 100
I was beginning to think they weren't coming this year, but the weather changed & dozens came pouring in this morning! They're fluttering around everywhere & mostly loving my hardy ageratum. Hoping they will roost!

On days that I report, I go out to observe at least 3 times usually between 9AM and 4PM. I count them while nectaring on my flowers. I have not observed directional flight.

On 9/29 they seemed to be everywhere floating around our neighborhood! I watched a few setting down on the wet grass, I guess to drink? There were so many floating around in the air in our back yard that I knew to go up front to my butterfly area to check & they were so numerous that I felt like I was in a butterfly sanctuary! That was the same day they ended up roosting in our back yard.
Denton, TX
Latitude: 33.2 Longitude: -97
Observed by: Pam
Contact Observer
The observer's e-mail address will not be disclosed.
Contact will be made through a web-based form.