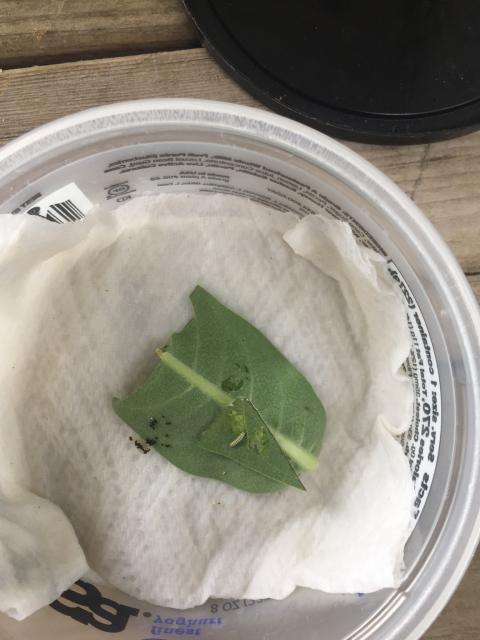 Date: 06/30/2021
Number: 11
Some of the eggs I harvested hatched. It took a few days for all to hatch, and for some to show an aborted hatch (could see monarch head in two eggs, but never opened).

Six larvae were placed at Red Butte Botanic Garden Friday July 2 in the Pollinator exhibit to eventually be released there. I have more photos, but looks like I can just upload the one here.
RBG staff and I monitor the larvae. At 8:30 pm the 5th I could find four larvae without too much trouble and expect the others are still there. Each was on its own stalk of showy milkweed from the garden.

Five larvae remain at my home. I took three out of containers and put into cuttings in am Monday the 5th. By evening they had crawled up container sides. Not yet in J shape this morning the 6th. I put the last & smaller two larvae on the cuttings in late afternoon of the 5th.
Salt Lake City, UT
Latitude: 40.8 Longitude: -111.9
Observed by: Adrienne
Contact Observer
The observer's e-mail address will not be disclosed.
Contact will be made through a web-based form.