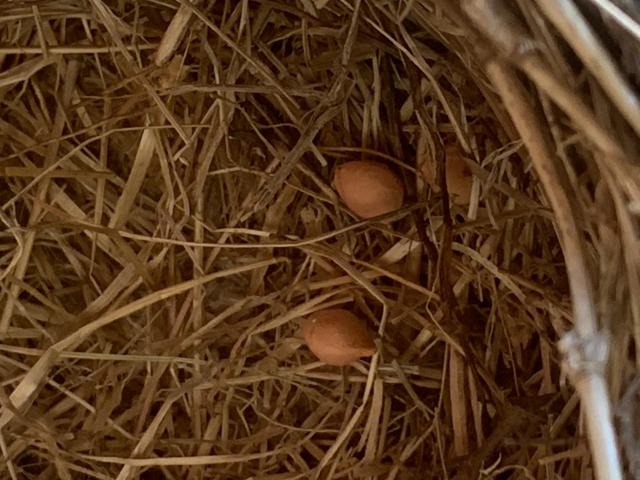 Date: 06/22/2022
Number: 4
4 eggs June 2. Hatched (3) June 14 and 4th June 15. In the early hours of June 22 the 4 babies are gone. In their place is what the photo shows. The shape isn't purely egg shaped. And I cannot find an egg this color or this small when I Google. The momma and daddy are still hanging around. The dad has a small worm (?). They are both on the fence nearby and momma is noisy as she usually is when she sees me. This nest is right outside my back door, and it is built on a plant stand. This shelf is about 6 feet high. I can hold the camera just above the nest and have gotten some great photos. Is it possible that the parents don't know that their babies are not there? What would/could have happened and left whatever this is? Note: some plant pots on a lower shelf were knocked over (all knocked in the same direction) towards the back. There is one shelf between the knocked over plants and nest.. those pots were not disturbed.
I have photos of the eggs, the babies right after hatching, the babies on June 20 with the start of feathers. I never touched the babies or the nest and she would chirp loudly at me from the fence (8' away) as I came out the door, but always went right back to her nest.
I look forward to hearing from you. I am so curious as to what has happened. I have been sharing this journey in messenger and Facebook with my grandchildren.

Cartersville, GA
Latitude: 34.2 Longitude: -84.8
Observed by: Beverly
Contact Observer
The observer's e-mail address will not be disclosed.
Contact will be made through a web-based form.