Greetings from Mexico!
By Estela Romero, Journey North correspondent in Mexico
Soon the real Monarchs will be preparing to leave their northern home and migrate to central México to spend the winter with us! We are so excited to receive the beautiful Symbolic Monarchs you are preparing to make and send.
Please keep in mind a couple of important things as you make your paper butterflies:

1. Efforts to make your butterflies bright in colour and decoration, have made a magic effect in our children's faces! You cannot imagine how they stretch their hands wanting to get the brightest and more specially decorated symbolic Monarch! They immediately start to look for materials and ideas with which their symbolic butterfly is decorated wondering whether they could do a similar one, whether you study art at school.

2. Since they know that their symbolic Monarch will have "fly back" north, they love to see that a small surprise has been attached to it for them to keep as a signal of friendship form your side!

Consider adding a post card or photo of the natural landscape surrounding your city or village. Our children have heard that many homes and schools in the north grow and care their own vegetable and flower gardens, and some schools plant prairies to support insect pollinators. Adding a photo or postcard to show this kind of thing helps us to see that all of the world efforts being done to preserve a healthy planet for the Monarchs.

If an extra small game, figure or creative souvenir light in weight should be added to it, they will be so delighted feeling that something from that visiting symbolic Monarch is staying with them!
We cannot wait to see your creations this season!
Estela Romero
Angangueo, Michoacan, México


Journey North's Estela Romero coordinates the Symbolic Migration at the monarch's winter home in Mexico.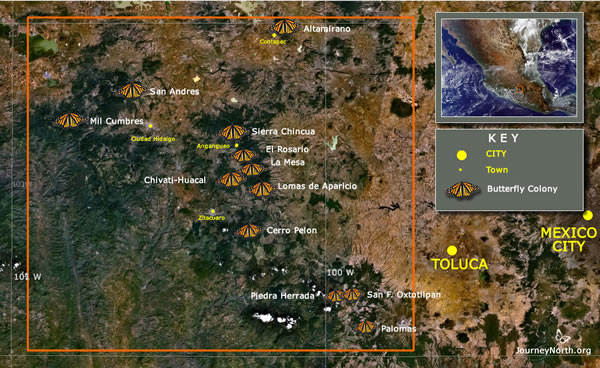 Estela's home town of Angangueo is surrounded by the monarch winter sanctuaries.