Steve Hillebrand - USFWS
Challenge Questions
Crane Home Page


Search Journey North
return to:



A/CPB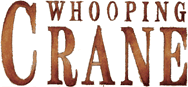 Whooping Crane Migration Update: April 2, 1998
Today's Update Includes:
---
Ultralight-trained Whoopers Begin Return Migration On Their Own!
Tom Stehn

To: Journey North
From: Tom Stehn
Aransas National Wildlife Refuge
Austwell, Texas

The two surviving whooping cranes that learned to migrate last fall by flying behind an ultralight aircraft from Idaho to New Mexico started their return migration north on March 5. This represents an amazing accomplishment by researcher/biologist Kent Clegg.

He raised the young chicks on his ranch in Idaho, taught them to follow an ultralight airplane, and then taught them to migrate to New Mexico. Once there,he then got the ultralight whoopers to incorporate into wild flocks of sandhills at the Bosque del Apache National Wildlife Refuge.

As the wild sandhills started the migration north, the ultralight whoopers went with them and they are on schedule for a hoped-for return to Idaho in a couple weeks. They are currently staging with sandhill cranes in the San Luis Valley of Colorado. This accomplishment is simple to write about, but very difficult to do. Congratulations to Kent for proving that whooping cranes can be taught a migration with an ultralight. Click Here to visit Mr. Clegg's web page.

More Ultralight News--Fly Away Back Home!
In another ultralight crane experiment, Bill Lishman and Joe Duff last fall flew sandhill cranes they had raised from Ontario, Canada to Virginia. Remember the movie "Fly Away Home" where a young girl led a flock of Canada geese behind an ultralight? That fictional story is based on a real experiment that Bill and Joe did with geese. They have formed a Company called Operation Migration and hope to help start a new whooping crane flock that would migrate between Manitoba and the southeastern U.S.

Sandhills Go To School
Bill and Joe's ultralight sandhills spent the winter this year near Airlie, Virginia. Instead of beginning their retrun migration as hoped for, the birds first made a 140 mile exploration of the eastern shore of Maryland, and then returned to Airlie. On March 28,however, they did get started on the migration (this time in the correct direction) and were sighted in a school yard near St. Catharines, Ontario on March 30. I bet the sandhills in the schoolyard caused quite a stir.

The sandhills are on a direct course to return to near where they were raised in Ontario. How do they know to take this direct return route, since on the journey south the cranes were flown way east around the end of Lake Ontario, but on the way north are apparently taking a direct route? The navigational ability of cranes is truly phenomenal.



News From Aransas--Countdown To Take-Off
Two subadult whooping cranes are currently on the Platte River in Nebraska. I know of at least one adult pair that has left Aransas and headed north. I found only 154 whooping cranes when I did a census on March 26. This tells me that possibly as many as 27 whoopers have started the migration. However, most of them won't head north until the second week of April.

I was out in a boat yesterday checking water inlet points into the saltmarsh for planning purposes in case we ever had an oil spill here. Seemed like there were whoopers at every one of the cuts I wanted to look at.

These wild whooping cranes navigate 2,500 miles from Texas back to the Northwest Territories to nest. Kind of my last chance to say goodbye from the ground before they head north. I'll do weekly flights to document when they take off.

Power Line Collisions-Still A Problem for Migrating Cranes
On March 30, one whooping crane was found dead under a transmission line near Monte Vista, Colorado. This bird was 15 years old and had been raised by sandhill crane foster parents when biologists placed a whooping crane egg in a sandhill nest at Grays Lake National Wildlife Refuge in Idaho. Only two cross-fostered whooping cranes remain from that experiment. Collisions with power lines continue to be the biggest source of mortality for whooping cranes. Sometimes they just don't see the skinny wires in time to avoid flying in to them. Now that you know some of the risks that power lines can pose to birds such as whooping cranes, how would you answer this challenge question:
Challenge Question # 6
"If you were the designer of power lines, can you think of any changes you would make to help make the power lines less harmful to wildlife? What if your changes would cost more?"
Until next time,

Tom Stehn
Whooping Crane Biologist
Aransas National Wildlife Refuge
Austwell, Texas


---

Discussion of Challenge Question # 2 and # 5
In our previous reports, we asked: "What is meant by 'imprinting'" and, "Why do you think the people who raised the cranes in captivity dressed entirely in white, with their bodies and faces covered?"
Raising whooping cranes in captivity. Why the white outfits?

| | |
| --- | --- |
| | |
Birds learn in many ways, and soon after hatching, some will follow and learn the characteristics of the first relatively large object they see, whether that is a parent, a human or an object. This type of behavior is known as imprinting. Dressing in all white crane costumes is one way to prevent baby whoopers from imprinting on humans.

Students in New Jersey explained imprinting this way:

"The reason why people who raise cranes wear white is because when they migrate they will follow the cranes. For example in the movie Fly Away Home the first thing the geese saw was the girl. When it came time for the geese to migrate they were too attached to the girl. They had to build a plane that looked like a goose in order for the geese to migrate." Lyssa and Tom
Travell School Class 5L
Sarah Lang <slang@ridgewood.ridgewood.k12.nj.us>
---
How to Respond to Today's Challenge Questions

1. Address an e-mail message to: jn-challenge-crane@learner.org

2. In the Subject Line of your message write: Challenge Question # 6

3 In the body of the message, answer this question:

Challenge Question # 6
"If you were the designer of power lines, can you think of any changes you would make to help make the power lines less harmful to wildlife? What if your changes would cost more?"


The Next Whooping Crane Migration Update Will be Posted on April 9, 1998.

Copyright 1998 Journey North. All Rights Reserved.