Steve Hillebrand - USFWS
Challenge Questions
Crane Home Page


Search Journey North
return to:



A/CPB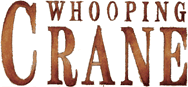 FINAL Whooping Crane Migration Update: May 14, 1998
Today's Update Includes:
---
Special Thanks To Our Crane Biologists!

Before the Journey North season comes to a close, we want to extend a very special thanks to Tom Stehn, Wally Jobman & Brian Johns. These experts made extra time in their already busy schedules to share their expertise, research, and knowledge about cranes with us all.

Journey North would not be possible without the generous dedication of biologists like them who contribute their expertise voluntarily. Motivated by concern about the long-term survival of the whooping crane, this gift to students is given freely in hope that the same interest & concern will become part of students' own lives. Thank you for a fantastic season Tom, Wally & Brian!
---
Latest Migration News
As we wait for news from Brian Johns' first census flight at the nesting grounds in Canada, here are some final thoughts from Wally Jobman on this season's unique migration, and also Ask The Expert answers from Tom Stehn.

Although this is the FINAL scheduled Whooping Crane Update, a follow-up report will be posted as a "News Flash" as soon as we hear from Brian at the breeding grounds in Canada--Stay Tuned!






---
Field Notes And Final Thoughts From The Great Plains

To: Journey North
From: Wally Jobman

May 13, 1998
Since my last report, I have received no new whooping crane sightings. I expect most of the birds are in Canada.

As for the juvenile which I reported earlier as separated from its parents in Divide County, North Dakota, on May 3 it was reported to still be in the same location. I am waiting to hear from the ND folks if the bird is still there and will let you know as soon as I hear.

It was rather an unusual migration this spring. The birds departed Aransas about a week earlier than they normally do. The peak of the migration in the U.S. appears to have been Easter weekend during which there were several days of strong south winds. Take a look at these south winds during the Easter weekend, which can be seen on these satellite weather images:


April 11, 1998

April 12, 1998

Click on each image to view the full surface map


As seen in the summary chart below, the birds moved through to North Dakota where most of the sightings were reported. No confirmed sightings were reported in TX, OK, or SD during the migration - this is quite unusual. There were also fewer than normal sightings in Canada. The lack of sightings is just another indication that the birds moved quickly, with most just stopping at a roost location for one night.

Confirmed Sighting Summary, Spring 1998:

| | |
| --- | --- |
| Location | Total # Cranes |
| Kansas | 5 sightings of 14 birds total |
| Nebraska | 10 sightings of 25 birds total |
| North Dakota | 13 sightings of 39 birds total |
| Canada | 10 sightings of 20 birds total (additional may be reported) |
It has been a pleasure working with everyone from Journey North. We appreciate the opportunity to get information about whooping cranes out to students. Threatened and endangered species need all the help that they can get.

Have a good summer

Wally

Wally Jobman
USFWS Ecological Services
Grand Island, Nebraska


---
Tom Stehn

Answers From The Whooping Crane Expert
Special thanks to Tom Stehn for providing his time and expertise in responding to your questions.
















---
---
Although this is the FINAL scheduled Whooping Crane Update, a follow-up report will be posted as a "News Flash" as soon as we hear from the breeding grounds in Canada--Stay Tuned!


Copyright 1998 Journey North. All Rights Reserved.