Steve Hillebrand - USFWS
Challenge Questions
Crane Home Page


Search Journey North
return to:



A/CPB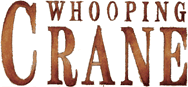 News Flash: 24 Whooping Crane Nests Spotted At Wood Buffalo

May 15, 1998

This unscheduled report brings the latest aerial news from Brian Johns, who has been surveying the whooping cranes nesting grounds in Canada.

To: Journey North
From: Brian Johns



Dear Students:
On May 13, I spent the day flying around the edges of the Whooping Crane nesting area and I discovered 24 nests. I will be flying again looking for more pairs of cranes and their nests.

It is a beautiful day here in Fort Smith, Northwest Territories. Fort Smith is the town that I work out of when I am checking on the Whooping Cranes in Wood Buffalo National Park.

This past winter was very mild here in Fort Smith and the crane nesting grounds received about 65 cm of snow, which is the normal amount. Further south along the cranes migration route in Saskatchewan and Alberta it was also mild, however there was very little snow and with no rain this spring it is very dry. It is so dry in Saskatchewan and Alberta that there have been dust storms and there are many forest fires burning. When I drove through northern Alberta on Saturday and Sunday I went through an area that had just burned and it was very smokey.

After the mild winter the spring season came early to the crane marshes. Almost all the snow has melted. I only saw a couple of small snow banks that I first thought were cranes until I had a closer look. The aspen and poplar trees leafed out at the end of April, which is about 3 weeks earlier than normal.

As I flew over the nesting marshes I was happy because there was lots of water everywhere. The ponds were full to overflowing. During years when there is lots of water in the nesting area the young chicks have a better chance of surviving than in dry years. We are not sure why this happens but when it is dry it may be easier for predators to get around in the marshes and the parent cranes also have to travel further to find food for their young and may run into predators. Lets hope that rain comes soon to help put out the fires further south and to keep the crane nesting marshes full.

Next week, I will be able to tell you how many nests there are this season and we can compare that to the record of 51 nests that was set last year.

Until next week,
Brian Johns

Brian Johns
Canadian Wildlife Service


Watch For Another News Flash From The Nesting Grounds Next Week.



---
Copyright 1998 Journey North. All Rights Reserved.