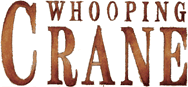 Photo credit-USFWS
Whooping Crane Migration Update: November 17, 1997
For the first time in 33 years, a pair of whooping cranes has successfully raised 2 young cranes and has brought the twins all the way to the wintering grounds. Here is Refuge Biologist Tom Stehn's first-hand account:
Dear Students,
It has happened! An event I had hoped to see once in my lifetime floated before my eyes as we approached a group of whooping cranes a few days ago on the Lamar Peninsula. The two white adult whooping cranes were foraging on opposite sides of a small saltmarsh pond. And next to each adult was a brown juvenile. The much hoped for arrival of twin whooping crane chicks was a reality.
For the past 30 years, biologists have been visiting whooping crane nests in Wood Buffalo National Park and removing one egg from some of the nests. Whoopers normally lay two eggs, but almost invariably only one chick survives. So taking the second egg from a nest was felt not to adversely affect population growth of the wild birds. The eggs picked up were incubated in captivity and now 114 whooping cranes are found in captivity where they breed.
The captive flock has done so well and are producing enough eggs that in 1997, biologists decided it was no longer necessary to pick up eggs from Wood Buffalo. With two eggs left in the nests, would any of these "twin" chicks survive to reach Aransas?
Migration route

Habitat conditions were excellent in Wood Buffalo with a record 51 nesting pairs producing 58 chicks. This included 16 pairs of twins. But the usual summer mortality kicked in to gear, and soon counts were down to 8 twin pairs, then 4. By mid-August, the Canadians could not find any twins, but thought there could be two sets still left.

One set of twins was sighted November 3 in the prairies of Saskatchewan. Would this set survive the rigors of a 2,500-mile migration and make it to the Texas Coast? Would I get to see twins, something that has not happened during my 15 years counting cranes at Aransas? In fact, the last time twins showed up at Aransas was 1964, the year before egg pickup began in Wood Buffalo in 1965.

As we approached in the airplane, we saw one brown chick under foot of each of the adults. The chicks had stationed themselves next to Mom and Pop where each chick would have a parent to beg food from. It has been 33 years, but twins are back at Aransas.

A study of the whooping crane population shows that about 8% of all the chicks that reach Aransas are twins.

I'm so excited about the twins that I haven't mentioned the RECORD number of cranes we found (169) and the RECORD total of juveniles (29). Previous highs were 160 total cranes last winter, and 28 chicks back in 1995.
Tom Stehn

This so far has been the BEST winter ever for the whoopers.

Sincerely,

Tom Stehn
Refuge Biologist
Aransas National Wildlife Refuge
Austwell, Texas