Dave Evers
Loon Home Page
Challenge Questions


Today's News




Spring's Journey North




Report Your Sightings


Search Journey North
return to:



A/CPB
Common Loon Migration Update: April 23, 1998

Today's Update Includes:
---
Today's Migration Data & Map
Special thanks to Loon Watch and the N.H. Loon Preservation Committee for help in collecting migration data this spring!
Winter and Breeding Range
Map by
Macalester College

Latest Migration Map
As of April 23, 1998
---
Coming Next Week: Analyzing Wisconsin's 1998 Loon Migration
You'll discover 55 loon sightings in this week's report, most courtesy of the Sigurd Olson Institute's Loon Watch Program. Next week we'll pull all of this year's Wisconsin sightings together for you, and provide suggestions for analysis.
---
Loon Couples Spend Winter Alone?
Lessons from Seney NWR
To: Journey North
From: Joe Kaplan and Keren Tischler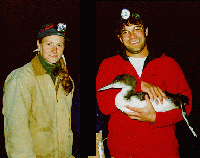 "We are still waiting for some of the loons to return to Seney NWR. With this year's early ice-off, we have had the opportunity to study the chronology of the returning adults. Thus far, in 6 cases the male returned first and in one case the female returned first. We are still waiting for birds in two territories. Four females and 1 male to be exact....

"This supports the thought that adults do not winter together and, therefore, migrate separately. We have observed this in other years, but this year is especially good for making these observations.

"In most years loons arrive back before ice-off and have to wait for a small section of their lake territory to open before they can land. Keep in mind that loons need a running start to take flight so they have to be careful. If a lake were to re-freeze they could get trapped. Because we have not seen this in the spring - it seems the loon has adapted its behavior for this special circumstance.

"So what do loons do in most years when they find their lakes frozen? Remember they can't stand on land! Answer....They fly to large rivers larger bodies of water like the Great Lakes. Then they wait for the small lakes to open to begin the nesting season. In most years it appears that pairs arrive together at ice-off but in nature appearance is not always what it seems to be."

Along with celebrating the good news of returning loons, there is also drudgery involved in Joe and Keren's work. We caught up with them last week at the National Wildlife Health Center in Madison, Wisconsin for an interview:

Journey North: What are you doing there?

Kaplan: Actually, unpacking dead loons! They've been stored here since the mortality event in Florida.....Same old diagnosis...emaciation mostly but also fish hooks, oil, trauma from boats, big fish, etc..

Journey North: (If we may ask,) how in the world did you store them all this time!?!?

Kaplan: In the freezer, just like a big turkey.

Journey North: What takes place at the National Wildlife Health Center?

Kaplan: The Center is part of the US Geological Service. They deal primarily with wildlife die-offs around the country, and then specific issues such as lead sinkers in wildlife. Also they do investigations into the cause of death in Federally Endangered Species. Some of the animals they study include bald eagles, wolves, whooping cranes - Very state of the art and a very knowledgeable staff.

Journey North: Have you completed your winter study?

Kaplan: Results of our testing should be available in mid-summer. Keren and I ended up examining about 150 dead or dying loons this winter and is it good to be finished. Feathers and blood will be tested for mercury (hg). Our role is to determine the contribution of mercury to these events... (I will keep you posted.)
---
Common Loons Now Less Common in Monterey, California
Here's Lucy Vlietstra's final report from the West Coast. We thank her for providing a bird's eye view of California's loons for us this year!

To: Journey North
From: Lucy Vlietstra
Date: April 17, 1998

"Over the last week (April 10-17), migration activity has really picked up in Monterey Bay. Common Loons are becoming less and less common...Individuals are either:
in full breeding plumage, potentially getting ready to migrate north;
or they are stopping at Monterey Bay during mid-migration;
or they are immature loons that will likely stick around Monterey Bay all summer. The immature loons are marked by the brown/gray back and white throat that all Common Loons wear in mid-winter.
The huge groups containing thousands of Pacific Loons have departed, leaving only a few solitary Pacific Loons behind. The departure was relatively abrupt and occurred over the period of about 3-4 days.

Red-throated loons are sparse but those that are here are in beautiful red, silver, and black plumage. I suspect that these birds are also stopping in Monterey Bay for a rest or refueling before continuing the flight north.

I am heading east myself in about a week or so--back to New York--so this will be my last report. I've enjoyed working with you again this winter.

Take care,
Lucy
---
Challenge Question # 8: Lost Loon?
Among the many loons spotted last week was one on April 18th--in
Reyjkavik, Iceland! Find Reyjkavik on a map and see if you can answer this question:
Challenge Question # 8
"How do you interpret the sighting of a Common Loon in Reyjkavik, Iceland?"
---
How to Respond to Today's Challenge Question:

1. Address an e-mail message to: jn-challenge-loon@learner.org

2. In the Subject Line of your message write: Challenge Question # 8

3. In the body of the your message, answer the question above.

The Next Loon Migration Update will Be Posted on April 30, 1998.

Copyright 1998 Journey North. All Rights Reserved.