Dave Evers
Loon Home Page
Challenge Questions


Today's News




Spring's Journey North




Report Your Sightings


Search Journey North
return to:



A/CPB
Common Loon Migration Update: April 30, 1998

Today's Update Includes:
---
Today's Migration Data & Map
Special thanks to Loon Watch and the N.H. Loon Preservation Committee for help in collecting migration data this spring!
Winter and Breeding Range
Map by
Macalester College

Latest Migration Map
As of April 23, 1998
---
Loons in Nevada Desert Set for Satellite Tracking
This exciting news just in from biologist Kate Taylor of the New Hampshire Loon Committee: Last Thursday, April 23rd, she and Dave Evers captured 3 loons and outfit them for tracking by satellite telemetry. These loons were among a staggering 1,600 other loons, all resting during their migration at the remote Walker Lake-- in the middle of the Nevada desert!

You can find Walker Lake on a map at: 38.25 N, -118.85W. To date, noone knows where the hundreds of loons that rest here are headed. The biologists hope to help answer this question through satellite tracking. Stay tuned for more news about this remarkable story in next Thursday's update.
---
Analyzing Wisconsin's 1998 Loon Migration
With the arrival of almost 100 loon sightings from Wisconsin in one short month, you are probably as exhausted as the loons! If their migration has become a blur, it would help to focus in on one state and see what can be learned from this large volume of data.

Try This!
1. We've organized all Wisconsin data for you by date on the WWW.

2. Can you identify which days--and during which weeks--loon travel into Wisconsin was the greatest? (The chart below may be helpful.)
| | | |
| --- | --- | --- |
| Dates | # Returned | % of total |
| Mar. 19-Mar. 26 | | |
| Mar. 27-Apr.2 | | |
| Apr. 3- Apr. 9 | | |
| Apr. 10-Apr.16 | | |
| Apr. 17-Apr.30 | | |
3. What relationship does this spring's migration seem to have with weather? Look for days with the most loon sightings. Then visit the weather archives and investigate the weather conditions on those days.
Challenge Question #9
"What conclusions can you draw about loon migration based on this spring's data?"

(To respond to this question, please follow the instructions at the end of this report.)
---
Courtship Rituals Underway at Michigan's Seney NWR
To: Journey North
From: Joe Kaplan and Keren Tischler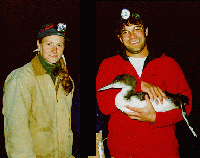 "Pairs are going through courtship rituals such as bill dipping and 'maw' calling. With such an early spring we are anticipating the first eggs within a week or so. The earliest Seney egg date we have recorded is May 9, and the average egg date is late May. It will be interesting to see if a record early spring means early nesting.

"To put the egg dates in perspective, I noticed a set of loon eggs in the Museum of Natural History at Cranbrook Institute of Science (near Detroit) - It was dated May 10th, 1889. The data with the eggs indicated the eggs were at an advanced stage of incubation at the time they were collected. Loons eggs take approximately 28 days to hatch which meant loons that nested near Detroit late last century went on nest (at least in that case) three weeks earlier than their counterparts in the Upper Peninsula."

---
How to Respond to Today's Challenge Question:

1. Address an e-mail message to: jn-challenge-loon@learner.org

2. In the Subject Line of your message write: Challenge Question # 9

3. In the body of the your message, answer the question above.

The Next Loon Migration Update will Be Posted on May 7, 1998.

Copyright 1998 Journey North. All Rights Reserved.