Center for Coastal Studies


Today's News




Spring's Journey North




Report Your Sightings


Search Journey North

return to:



A/CPB
FINAL Right Whale Migration Update: May 27, 1998
Today's Report Includes:
---
Special Thanks To Anne Smrcina!
Before the Journey North season comes to a close, we want to extend a very special thanks to whale expert extraordinaire Anne Smrcina. Each week--as dependable as whale migration itself--Anne's news reports simply land in our laps.

Over the past 5 Journey North spring seasons, she and her network of whale experts up and down the Atlantic coast have shared their expertise , research, and knowledge about whales with us all. As one student inspired student was overheard saying, "I want to go to see the ocean!" Thanks Anne, for bringing the incredible story of whale migration to so many of us who have never had the chance to see a whale---yet.
---
To: Journey North
From: Anne Smrcina


A final hello from the Stellwagen Bank National Marine Sanctuary.for the 1998 Journey North season. It's been great fun providing this information to all of you.

Sightings Slim--One Mother-calf Pair Sighted
Right whale sightings have been pretty scarce lately -- windy days have prevented many boat and plane patrols, and calm days have not revealed many whales in local waters. The most recent National Marine Fisheries Service air patrol on May 20th over the Great South Channel revealed a mother-calf pair (identities not known at this time). A second patrol over the Jeffreys and Platts Bank areas did not spot any right whales. On that same day, the Center for Coastal Studies and Mass. Department of Marine Fisheries flew tracklines from south of Nantucket to Block Island and also came back with no sightings.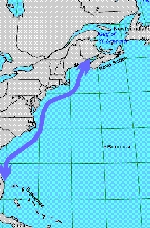 Migration Route of North Atlantic Right Whales
Map courtesy of
Dr. Carol Gersmehl and Debbie Bojar
Macalester College

Keeping In Touch With Whales This Summer
The whales will be moving on this summer to their regular feeding and breeding grounds at the mouth of the Bay of Fundy near Browns Bank off of Nova Scotia. This is the area in which most mother-calf pairs are identified and counted. We're hoping that more than 5 (the number seen in the southern calving grounds) will show up.

For those of you wishing to pursue whale studies this summer, here are two interesting sites on the web:

Here's hoping for a safe summer season for whales and whalewatchers alike. Enjoy your summer vacation!

This is Anne Smrcina, education coordinator of the Stellwagen Bank National Marine Sanctuary headquartered in Plymouth, Mass., signing off.
---
This Is The FINAL Right Whale Update. Have a nice summer!
Copyright 1998 Journey North. All Rights Reserved.