Jim Gilbert


Tulip Home Page
Challenge Questions


Today's News



Spring's Journey North

Report Your Sightings


Teacher's Manual

Search Journey North
return to:



A/CPB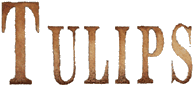 Tulip Garden Update: May 8, 1998
Today's Update Includes:
---
Tulip Garden News & Data
Spring's Progress
as of May 8, 1998

Hooray! The tulips in Ramsey, MN FINALLY emerged--the only ones since our April 27th report, and tulips in another 23 gardens have bloomed:

You may think spring has awakened tulips everywhere by now. But we checked
in with last year's official garden in Utsjoki, Finland (69.90 N, 26.90 W) only to hear this: "There is one meter of snow above the tulip garden at the moment!" reported Annikki Lauerma in late April.(anlauerm@mail.freenet.hut.fi) You can't help but wonder:

Spring's Last Stop: Challenge Question #11
"When do you suppose tulips in Utsjoki, Finland (69.90 N, 26.90 W) will FINALLY bloom?"
---
Answers from the Tulip Expert
Special thanks to Mary H. Meyer for providing her time and expertise in responding to your questions. For additional information about Tulips and more, try these sites:


The FINAL Tulip Garden Update Will be Posted on May 22, 1998

Copyright Journey North 1998. All Rights Reserved