Jim Gilbert


Tulip Home Page
Challenge Questions


Today's News



Spring's Journey North

Report Your Sightings


Teacher's Manual

Search Journey North
return to:



A/CPB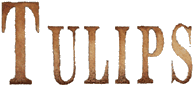 Tulip Garden Update: May 22, 1998
Today's Update Includes:
---
Spring's Progress
as of May 22, 1998

Today's Tulip Garden News & Data
Before we bid farewell to Spring, 1998, this news arrived just in time from the official Journey North garden in Anchorage, Alaska:

"After many cold days and lots of wind (even some late snow and sleet) our emerged tulips found the energy to bloom yesterday (05/14/98) when the sun shined for the entire day! (Did you know we've got about 700 tulips out
there?)" Mr. Sterling's Class (sterling@corecom.net)

But something big is causing problems at the Kenai School District garden in Sterling, AK:

"Guess what? Moose like tulips...some of the blossoms were nipped cleanly off, and there were moose tracks in the dirt!! I did snap a shot of the moose while snacking on them, so will try to scan that for you," offered teacher Sara Shepner. (shepner@KPBSD.K12.AK.US)

These students' tulips have been growing for an awfully long time. Because they emerged 43 days ago---way back on April 9th--we wrote twice to ask:

"Aren't they blooming YET?"

May 11
"Unfortunately, no! We have had a cold spring, so the tulips have grown slowly. It has been below freezing many nights in May. In fact, snow was drifting down this morning!"

May 22
"No, our tulips have buds, but no blooms yet. It's not been above 50 degrees much yet this spring! They actually look pretty sorry from late frost....leaves are curled, and tinged with yellow. We have enjoyed watching them, however! If the sun comes out, I'm sure the tulips will bloom next week......"
---
Spring's Journey North
Did You Predict its Path?

Here's the final growth chart from our 11 official gardens. How do the predictions you made last fall compare?
Growth Chart
1998 Official Journey North Gardens

| | | |
| --- | --- | --- |
| Location | Date Emerged | Date Bloomed |
| Washington, DC | 01/07/98 | 03/31/98 |
| Palo Alto, CA | 01/12/98 | 02/16/98 |
| Houston, TX | 02/10/98 | 03/02/98 |
| Hood River, OR | 02/13/98 | 03/26/98 |
| Newport, SCOT | 02/17/98 | 04/06/98 |
| Pequot Lakes, MN | 02/23/98 | 04/21/98 |
| Mississauga, Ont | 02/25/98 | 03/31/98 |
| Franklin,TN | 03/01/98 | 03/24/98 |
| Boston, MA | 03/04/98 | 04/07/98 |
| Salt Lk City, UT | 03/16/98 | 04/20/98 |
| Anchorage, AK | 04/13/98 | 05/14/98 |
Spring's Journey North
1998
What do you suppose will happen next year, when el Nino's not around?
We hope you'll join us. Watch for planting instructions, bulb ordering information and other details in August.

February
(2/27/98)

March
(3/27/98)

April
(4/27/98)

May
(5/22/98)
This is the FINAL Tulip Garden Update. Have a nice Summer!

Copyright Journey North 1998. All Rights Reserved