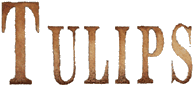 Tulip Garden Update: October 22, 1997
In the month that has passed since our last update, fall has traveled swiftly. The days are now 3 hours shorter in Anchorage, Alaska. Even in Hood River, Oregon, where students at Westside Elementary recently planted their garden, daylength has decreased by almost 2 hours. In fall's wake, news has begun to arrive as tulip gardens have gone into the ground. The first 34 gardens have already been planted. Here's where they are located.
Click Here for Today's Tulip Data
If you have planted your garden and you are NOT on this list, please be sure to report to Journey North! Simply press the "owl" button and a Field Data Form will appear.
We wish we had space for comments of all the gardeners, but here are a few. Remember that you can always access all records in the permanent database.
Click Here to Visit the Full Tulip Database
10/17/97 North Dakota

"The Richardton/Taylor seventh grade class of 2003 planted 50 emperor tulips in an area that will represent the climate here in North Dakota. We are excited to be part of this project and are looking forward to the coming of spring for more than one reason now!!"
(dhimmels@sendit.nodak.edu)

10/14/97 Wisconsin

"We planted our tulips on 10/13/97. We had snow on 10/14/97," reported students in the Flambeau School District of Glen Flora, WI. (lapplebee@centuryinter.net)

10/10/97 Scotland
"You'll never guess what we've managed to do for Journey North," wrote Ms. Conroy from Trenton, Ontario. "Student Chelsea Weir went to Scotland for Thanksgiving week to visit her grandpa and she took with her 6 red emperor tulips to plant in his garden- one tulip for each of his grandchildren! The tulips were planted on October 10, 1997 in Glasgow, Scotland." (conroys@post.kosone.com)
Remember, if you have not yet ordered your bulbs you should do so immediately! You may order the required bulbs from Netherland Bulb Company or you may purchase them at a local supplier.
Netherland Bulb Company: 1-800-788-8547
Today's report also includes:
The Next Tulip Garden Update Will be Posted on November 14, 1997.