Photo: Operation Migration

Meet the Whooping Crane Class of 2004!
Hatch-year 2004 of the Eastern Flock


Crane # 402 (#2-04)

Date Hatched

April 21 , 2004

Gender

Male

Date Arrived in Wisconsin

June 16, 2004

Permanent Leg Bands
W/R/W


W/G


Read about the naming system, birth place in Maryland, release site in Wisconsin, over-wintering site in Florida and leg-band codes.
Personality and History
Migration Training: Introduced to the trike at 8-days of age. Received 8 hrs & 10 min. of aircraft conditioning at Patuxent Wildlife Research Center (PWRC). Good follower. Wants to be in charge. Clobbered the younger #407 when the younger chick bit him on the neck.
History:
First Migration South: Crated to destination on Day 1 and dropped out on Day 2 (crated again). Crated to Kankakee Cty, IL on day 22. On day 36, decided that while it couldn't manage to follow the aircraft another 5 miles into Oldham County, it could still fly for more than 7 hours (all over Kentucky, and southeast Indiana) before he was retrieved by trackers. Often called a toublemaker (along with 405 and 408).

Spring 2005: Left on first journey north with the group of 11 on 25 March, 2005 after 103 days on wintering grounds. After flying through Georgia and veering as far east as South Carolina, the flock corrected their course, stopping in Indiana before reaching Wisconsin. Still together, the group of 11 entered Wisconsin the evening of April 4. On April 6 the group of 11 split. Chick #402 stayed with 3, 15, 16, 17, 19 and 20. They remained in Dane County, WI and finally arrived on Necedah NWR on May 3, migration complete! During the summer, cranes #402, 403, 412, 416, and 417 roosted as a group, often with sandhill cranes. They spent time in Columbia and Marquette counties, WI.
Fall 2005: Left Wisconsin on its first unaided fall migration on November 9, together with #403, 412, 416, and 417. They made it to Indiana the first day. On November 10 they were roosting at a central Tennessee location. According to tracker Lara Fondow, the five males landed at their former pen site in Florida at 2:05 November 17. They are the first Eastern flock whoopers to complete migration to the primary wintering area in west-central Florida this fall! With no free food at the pen, they wandered north the next day.
Spring 2006: Began migration on March 27 or 28 in a group with 403, 412, 416 and 417. They were reported in Dane County, WI on March 31. They moved up to Necedah NWR to complete their migration on April 6!
Fall 2006: Departed Wisconsin on Nov. 19 (with #310, #403 and #412) and made it that night to NE Illinois. They successfully migrated to Florida, where #402 was in Lafayette County with #403 and #412.
Spring 2007: Began migration March 18 (with #403 and #412). Confirmed roosting with #403 on Necedah NWR, on the night of March 26.
Fall 2007: #402 began migration from Wisconsin on November 21 along with 307, 412, 511, 514, and W601 (the flock's only wild-hatched chick so far). He was found with #412 and wintering sandhill cranes in Lake County, Florida, on December 19.
Spring 2008: Began spring migration on March 17 with #412. Confirmed back on Necedah NWR by March 30.
Fall 2008: Crane #402 left Wisconsin November 20 with #105 and #501. (They had departed Hiwassee WR, Tennessee, after December 19.) In Florida, he stayed with #105 and #501 in Hernando County until January 3, when he moved to his previous wintering location in Lake County. On January 24, a day after the Class of 2008 chicks arrived at the Chass pen, he showed up there too. He was still there the next day. ICF's Sara Zimorski said, "Maybe he was lonely and looking for #105 and #501 again. He doesn't seem like he'll cause problems, but we'll keep an eye on him. If he stays we'll see how he does with the chicks once they're released after health checks."
#402 getting his blood drawn
Photo Eva Szyszkoski
Surprise! Adult male #402 was still at the Chass pen during the chicks' health checks, and Eva tells what happened: "After costumed handlers took the first few chicks away to the tent, #402 began to alarm call as each successive chick disappeared down the path. Chick #814 joined in with his already-adult voice, and several of the other chicks voiced their objections with high pitched little peeps.

"While #402 did not need a new transmitter, one of his bands was chipped. We decided to try to capture him to replace the band and let the Disney folks perform a health check on him as well. Sara didn't seem to be too hopeful about his willingness to be caught, since he had just watched seven chicks be hauled away. But all it took was one little grape! As soon as Sara put a grape in her puppet beak, #402 came right up to her, apparently risking the chance of being caught for one little delicious treat. Needless to say, catching him was not as difficult as we expected. We knew that Sara had been successful when we heard #402 rattling—a typical sound made by a crane when it is caught.

After his band was replaced and his health check completed, #402 was released back in the open topped pen, free to fly away.
By January 29, #402 had moved to Hernando County, and by January 30 he was back at his Lake County location.
Spring 2008: Began migration from Lake County, Florida on March 17. Back in Wisconsin on Necedah NWR, he was with female DAR 46-07 after she split from #412 after migration. Male #402 and DAR 46-07 were a pair all summer and stayed in the core area.
Fall 2009: Pair #402 and DAR46-07 were still on the Wisconsin refuge as of Nov. 15. They did migrate and wintered in Lake County, Florida.
Spring 2010: Began migration from Florida on March 19 with female 46-07 (DAR). They were reported near Concord, Pike County, Georgia, on 19 March. They were back on Necedah NWR by March 28. Then came GREAT news: #402 and his mate were observed sitting on a nest near one of the ultralight training sites on the Necedah National Wildlife Refuge on April 30th. But the pair continued to incubate the egg for another eight days after it was due to hatch. The egg was collected and analyzed at ICF, where they found that the egg was infertile. (Fingers crosssed that next spring they'll become parents.)
Fall 2010: Migrating male #402 (now to be known as #2-04) and mate #46-07 (DAR) were found with pair #213 and #218 (now #13-02 and #18-02) in Will County, Illinois, on the afternoon of November 26. They remained in the area at least through December 2. They completed migration to their wintering territory in Lake County, Florida, where they were found during an aerial survey on December 13.
Spring 2011: Began migration on March 8 with female 46-07 (DAR). They were back at Necedah NWR by March 21. The pair began incubating on April 19 and on May 16 little W4-11 hatched! By June 10 their chick was the Eastern flock's only surviving wild-hatched chick for the summer 2011 nesting season. But good luck ran out and the chick was found dead July 1.
Click for more about this nesting pair.
Images: Eva Szyszkoski
Parents and chick W4-11 on June 12, 2011, but the chick was discovered dead on July 1.
Fall 2011: Began migration Nov. 27. Usually winters in Lake County, Florida, with his mate #46-07 (DAR), but they didn't make it that far south this year. They were reported in Hopkins County, Kentucky at the end of January and remained in the area through at least February 13.
Spring 2012: Male #2-04 (formerly #402) with mate #46-07 (DAR) completed spring migration back to Necedah NWR in Wisconsin by March 12. They were found incubating on an April 26 nesting survey flight by trackers. They were off the nest when trackers saw them on the May 21 survey flight, and appeared to be tending a chick (W7-12). The chick survived several weeks but was no longer alive by the July 6 report from tracker Eva. On August 28, male #2-04's mate (#46-07 DAR) was discovered dead on Necedah NWR.
Fall 2012: He was captured Oct. 24 and his transmitter replaced before fall migration. His original band colors remain the same.
Spring 2013: Crane#2-04 (formerly #402), with new mate e #8-09 (formerly 9-08), was reported back on Wisconsin's Necedah NWR on March 24, but likely had come in on March 23 with cranes #1-10 and W1-10. The new pair was soon nesting, but the nest failed in early May and they did not produce chicks this summer.
Fall 2013: This fall, crane#2-04 (formerly #402) mate #8-09 (formerly 908), seem to have successfully adopted a young whooper chick (24-13) that was raised by adult whoopers this summer at Patuxent Wildlife Research Center in Maryland and released in September at Wisconsin's Necedah NWR in hopes the chick would join a willing adult pair. Will this new "family" migrate south together? Everyone hopes so! This is a new program, called Parent Rearing (PR), to grow the eastern flock of endangered Whooping cranes. The group moved to Sauk County, Wisconsin, on October 21 and left on migration from that location on November 10. Satellite readings placed them in Jasper County, Illinois, on 11 November 11 and at the adults' previous wintering location in Hopkins County, Kentucky, on November 13. Well done, #4-02 and #8-09! The family was still toether in Hopkins County, Kentucky, until at least March 3. Four other adults are also in the area:
Spring 2014: Crane#2-04 and mate #8-09 arrived back on Wisconsin's Necedah NWR on March 29/30. The pair was discovered to have an active nest on April 15, but sad news came just three days later (April 18) when the intact carcass of his mate #8-09 was found near the nest. A single intact egg was rescued from the nest and transported to the International Crane Foundation in nearby Baraboo, Wisconsin. By end of summer he had re-paired with #25-09.
Fall 2014: Male #2-04 and new mate #25-09 didn't raise a chick this summer but on September 22, parent-reared chick #27-14 was released near the pair in hopes they would foster the chick and lead her on migration this fall. The adults and the chick left Necedah on Oct. 31 and migrated together to Hopkins County, Kentucky. They were joined there by Nov. 21 by #24-09 and 42-09 and two more Whooping Cranes in early December and spent the winter.
Spring 2015: Male #2-04 and mate #25-09 departed Hopkins County, Kentucky around March 24 with their adopted youngster #27-14 and together they completed migration to Necedah NWR in Wisconsin on March 31. The pair nested and were already parents of new twin chicks by May 18. The adults were photographed by Wisconsin DNR pilot Bev Paulan on June 8 with surviving chick W10-15. The chick survived the summer and fledged!
Photos Beverly Paulan, Wisconsin DNR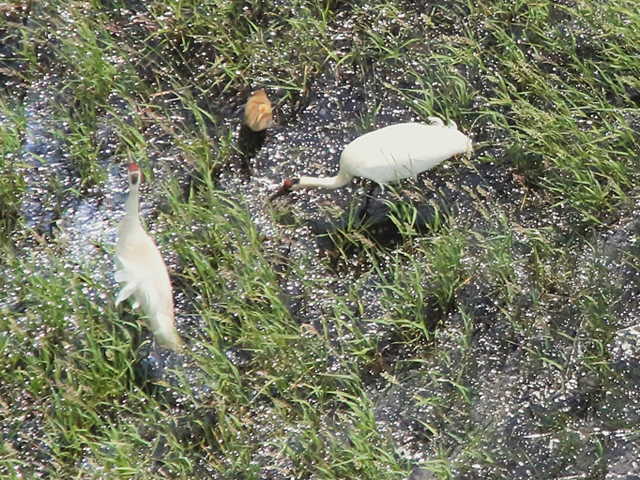 Fall 2015: The family left Necedah NWR and were reported for the first time on a wintering area in Kentucky on January 14, 2016. No chick was mentioned, and trackers are currently working on verifying the exact location and whether W10-15 is still with the parents.
Spring 2016: Crane pair #2-04 and #25-09 returned to Necedah NWR as of mid-March. Their chick, W10-15, was photographed alone in Vernon County, Wisconsin on March 26, separating from parents before the completion of the northward migration. The pair nested again and their new chick, W19-16, hatched on June 5. It was one of four surviving chicks by July 15, but had perished by July 27.
Fall 2016: Pair #2-04 and #25-09 were still in Juneau County, WI as of Oct. 31 in an unusually mild autumn. They were reported in Hopkins County, Kentucky in December.
Spring 2017: Crane pair #2-04 and #25-09 returned to Necedah NWR and were nesting by early April. They re-nested and were incubating that nest in Juneau County when seen on Beverly Paulan's May 12 aerial survey. By the June 15 aerial survey flight, they had hatched chicks W16-17 and W17-17, but neither chick survived past June 26.
Photo Beverly Paulan, Wisconsin DNR
Last updated: 7/3/17