Photo: Operation Migration


Meet the 2009 Whooping Crane Chicks!
Hatch-year 2009 of the Eastern Flock


Crane # 908 (#8-09)

Date Hatched

May 8, 2009

Gender

Female

Egg Source

Necedah NWR (Rescued egg from first nest of #309 & #403)

Permanent
Leg Bands

(Attached after reaching Florida)




Left Leg
Right Leg
radio antenna
PTT




Read about the naming system, hatch place in Maryland, release site in Wisconsin, over-wintering site in Florida, and leg-band codes.
Personality, Early Training
Notes from the captive breeding "hatchery" at Patuxent WRC in Maryland:
Bev said, "908 has been the speediest of all the chicks since the first time she was let outside. I have never seen a chick go faster or try harder to keep up. She reminds me of a sprinter on the race track. She has the same can-do attitude in the circle pen and nothing keeps her from being right there next to the trike."
She loves to take a bath in her footbath. She squirms to get her whole body in the water. Shedips her head under the water, then looks up and lets the cool water run down her neck and over her back. Then she jumps out of the water and leaps and runs, flapping the whole time as she dries herself.
Chick 908 started out as a fairly aggressive chick. She was grouped with 905, 906, and 907 for socializing but had to be separated from them every night because she was usually very pecky. She took a shot at anyone who got too close. But one mid-June day Bev actually saw 908 back down from the previously-most-submissive chick in the cohort, 907. When #908 walked through the pen one afternoon and pecked at the others, only 908 stood up to her. The two girls faced off, each pecking at the other's beak. Crane 907 got the better of 908, who skulked off with head lowered and one wing out. (This is the most submissive posture a chick can take, and something new for 908!) Unfortunately, #908 suffered a broken leg during her time in Maryland.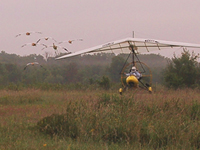 Cohort 1 FLYING Aug. 17 Photo Bev Paulan, Operation Migration
Notes of Flight School in Wisconsin:
Recovering from her broken leg kept #908 from being transported to Wisconsin with her Cohort One. She arrived in Wisconsin with Cohort Three on July 10 to be reintroduced to her Cohort One chick-mates. Her injured leg healed nicely and she seemed no different from the rest of her cohort during training. She ran just as fast as the others and got enough air under her wings to be flying in ground effect by mid July. Like all the chicks in cohort one, she was flying by July 20.
One day near the end of July, 8 of the 9 chicks in Cohort 2 followed the ultralight well on a lap down the runway. But on the return lap, 908 and 914 decided to join naughty 918 in the swamp. Meeting up with the swamp monster (which Richard deployed from the trike by yanking on a string attached to a broom out in the swamp) convinced both 908 and 914 to leap back over the fence as if it wasn't there and get back on the runway and then into their pen. By early August cohort one was flying circles over the training areas. By mid-August they were flying larger and longer circuits. In the middle of the pack, Chick 908 kept up so well with the others that no one would ever know her leg was broken when she was a baby.
First Migration South: Chick #908 left Necedah NWR for her first migration on October 16, 2009. She was one of only five in the Class of 2009 to behave and follow the ultralights to the migration's first stopover site! Pilot Joe Duff took this photo of Richard and the four. Find day-by-day news about the flock's migration and read more about #908 below.

Oct. 27: Today chick 908 proved again that she's a great follower as she flew to Stopover #2 with six flockmates and Richard's ultralight. This photo was captured from the CraneCam soon after arrival of the seven "leaders."

Nov. 1: Hooray! 908 (and ALL the others!) flew the distance to Stopover #3. No crates needed!

Nov 20: Crane 908 was one of the 16 who flew off on this exercise day and didn't come back! The 16 flew more than 15 miles before Richard located and caught up to them. He then turned them on course and led them to safe landing at the next planned stopover. Until today, this has never happened since the pilots began leading whoopers south in 2001.


January 13, 2010, Day 82: Migration complete for the "St. Marks 10:" #906, 908, 910, 911, 912, 914, 915, 918, 925, and 926! Crane 908 flew every single mile of this 1113-mile migration without being crated even once!
Winter at St. Marks NWR: Brooke took this photo of #908 learning to catch blue crabs
Spring 2010, First Journey North: Eight of the St. Marks juveniles left at mid-day March 24 on their first journey north! According to a PTT reading from #908, she (and probably #915, #910, #911, #914, #918, #925 and #926) reached Shelby County, Alabama— about 260 miles from the pen! Their next flight took them an additional 380 miles to Monroe County, IN, where an observer photo confirmed that they were all still together. As of March 29 they had flown another 73 miles to the Fountain County, IN, roughly 70 miles due east of the Piatt Co., IL stopover used during their ultralight-guided journey south last fall. Tracker Eva said a PTT reading for #915 on March 31 put them in Monroe County, Wisconsin. On April 1 Sara picked up their signals in the Necedah area. They successfully completed migration!" HOORAY!!!!!
Fall 2010: Crane Crane #8-09 (untll this year, formerly known as #908) remained on Horicon NWR in Dodge County, Wisconsin at least through October 15 along with the cranes she had been with all summer and a few others. She and 2009 cohort mates #11, 15, 18, 25, and 29 returned to the St. Marks NWR release site from an undetermined location on the morning of December 29 when the five chicks in the Class of 2010 had already been there for several days. They continued to return to the pen site periodically but the "costumes" always drove them away. The group (except for 25 and 29) were found in Leon County, FL during a survey flight on January 13. They were not found in a search of the area by ground on February 9.
Spring 2011: Crane#8-09 (formerly #908) had completed migration from Florida by April 2 with 18-09, when they were detected on the Necedah NWR. They had last been detected SE of Tallahassee, FL, during a survey flight on March. 11. They were then with #11, #15 and male #29-08. Later she was seen building a nest with male #27-08, but without results. She was still with male 27-08 in mid June.
Fall 2011: Migrated with #27-08 to Knox County, Indiana.
Spring 2012: Crane #8-09 (formerly known as #908) (with #27-08) was reported back on Wisconsin's Necedah NWR on March 11, migration complete!
Fall 2012:
Spring 2013: Crane #908 (#8-09), now with new mate ##2-04 was reported back on Wisconsin's Necedah NWR on March 24, but they likely had come in on March 23 with cranes #1-10 and W1-10. The pair was soon nesting, but the nest failed in early May: No chicks for this pair this summer.
Fall 2013: This fall, crane #8-09 (formerly 908) and mate#2-04 (formerly #402) seem to have successfully adopted a young whooper chick (24-13) that was raised by adult whoopers this summer at Patuxent Wildlife Research Center in Maryland and released in September on Wisconsin's Necedah NWR in hopes the chick would join a willing adult pair without a chick. The team of crane experts is watching and waiting to see if the new "family" will migrate south together. This is a new program, called Parent Rearing (PR), to grow the eastern flock of endangered Whooping cranes. The group moved to Sauk County, Wisconsin, on October 21 and left on migration from that location on November 10. Satellite readings placed them in Jasper County, Illinois, on November 11 and at the adults' previous wintering location in Hopkins County, Kentucky, on November 13. Well done, #4-02 and #8-09! The family was still there through at least March 3, with other adult Whooping cranes.
Spring 2014: Crane #8-09 and her mate #2-04 arrived back on Wisconsin's Necedah NWR on March 29/30. The pair was discovered to have an active nest on April 15, but sad news came just three days later (April 18) when the intact carcass of 8-09 was collected near the nest. A single intact egg was rescued from the nest and transported to the International Crane Foundation in nearby Baraboo, Wisconsin.
Last updated: 5/2/14
Back to "Meet the Flock 2009"