March 2, 2011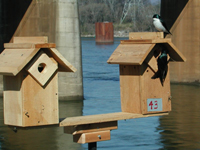 Dear Students:

Things are starting to happen! There was an increase in reports of swallows and martins from several places across the country. The first Purple Martin report came from Lubbock, TX, and Cliff Swallows have started arriving in California. Here in Tennessee, Tree Swallows have begun arriving all over the state, including here in Chattanooga. This photo shows some Tree Swallows that were happy to discover a new place to nest. Be sure to see the whole story.

Fronts and Fallouts
So, will we see an even bigger influx of migrants this week? Over the past couple of days, a strong cold front moved across the country. If we were later into the migration season, the storms and north winds brought by this front could have resulted in the first fallouts of the season. Many birds arriving from the tropics are exhausted. (It takes about 18 hours non-stop for a bird to fly across the Gulf of Mexico!) If they encounter rain or headwinds, it is more than they can handle and they land very quickly and in large numbers. To someone on the ground, it looks like the birds are "falling out" of the sky, hence the name of the phenomenon. A fallout is a very impressive sight to see. Any migrants that landed would be grounded until the high- pressure area moved east and the winds shifted to the south. Until then, the birds would rest and feed so they would have the energy to continue migrating when conditions became favorable. This would give birders plenty to see for a couple of days.
What to Expect This Week
What does this week's weather mean for migration? Let's take a look:
Looking at the weather map, you'll see a big area of high pressure over much of the country. Birds will have to stick around until the system moves east in a day or two.

Migrants won't have much time to travel, because another cold front is coming down from Canada. This will bring more rain over the eastern US by the middle and end of this week.

The one area that has good flying weather right now is the western US. Skies are clear and winds are southerly, so any migrants arriving from the tropics will be able to make a lot of progress over the next few days.
Dr. David Aborn
Heads Up!
We probably have another couple of weeks before the first big movement of migrants arrives, so keep practicing your weather skills and keep your eyes open for birds!
Take Care.

David Aborn
North Chickamauga Creek Conservancy
Chattanooga, TN