Dear Journey North,
Spring migration continues to get rolling! Much of the country got a taste of spring this week, and the birds liked it as much as the people! Southerly winds that gave us warm temperatures (it was 78 degrees here yesterday) also allowed migrants to make some progress northward, with Tree Swallows making their first appearance in Maryland and Ohio, and a Purple Martin being seen in Missouri.
Southern Arrivals
There were a lot of new arrivals in the southern U.S. as well. I know my reports focus on songbirds, but many other types of birds also migrate, including some birds of prey. One of my favorite birds is the American Swallow-tailed Kite; they started arriving in good numbers, with sightings in Florida, Mississippi, and Louisiana. More and more Ruby-throated Hummingbirds are showing up in Mississippi and Louisiana as well. Other first arrivals included Baltimore Oriole, Rose-breasted Grosbeak, and Chuck-wills-widow in Florida, and Yellow-throated Vireos, Blue-headed Vireos, Yellow-throated Warblers, Black-and-white Warblers, and Black-throated-green Warblers in Texas and Louisiana. I also heard the first Blue-headed Vireo here in Tennessee.
Western Arrivals
The western U.S. did not see as many arrivals, but they had their share with swallows continuing to arrive in Arizona, along with Cassin's Vireos, Lucy's Warblers, and House Wrens. In California, Barn Swallows, Bullock's Orioles, Warbling Vireos, and Western Wood-Pewees made their first appearance.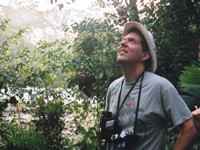 Photo: David Aborn
Dr. David Aborn
Photo: Laura Erickson
Rose-breasted Grossbeak
Photo: Wikipedia
Purple Martin
A strong cold front is moving across the country, with very strong northerly winds. (That 78 degrees here yesterday has turned into 49 degrees today —and is still falling!) That means those birds I just mentioned won't be able to go anywhere for a few days.
Much of the northern and western US will stay cold through the weekend, but the southern and southwestern US will moderate by then. The southerly winds will allow birds to continue arriving from the tropics, so there should be lots to see.
For those birders farther north, be patient, because when the weather becomes favorable, you will be inundated with migrants and can be assured that spring has arrived!
Take care.
David Aborn
North Chickamauga Creek Conservancy
Chattanooga, TN