Dear Journey North,
Tomorrow is the first official day of spring, and the migrants are getting anxious! That cold front that moved across the country last week has kept the birds confined to the southern half of the country. One birder on the Alabama coast reported "insane numbers" of White-eyed Vireos, along with many Yellow-throated Vireos, Blue-headed Vireos, Prothonotary Warblers, Louisiana Waterthrushes, and the first Orchard Oriole of the season. New arrivals in Florida included Great-crested Flycatcher, Ovenbird, Indigo Bunting, and always spectacular Painted Bunting.
Slow Week in Western Gulf Region
Texas was the only state to report significant influxes of migrants. Blue-gray Gnatcatchers, Hooded Warblers, and Black-and-white Warblers were commonly seen, along with the first Summer Tanager and Scissor-tailed Flycatcher. Over the last day or two, winds have shifted to the south, allowing a few migrants to continue migrating. The first Louisiana Waterthrushes have been seen here in Tennessee, Black-and-white Warblers, Purple Martins, and Barn Swallows showed up in Oklahoma, and Prothonotary Warblers have arrived in Ohio, but that is as far north as migrants have gotten.
New Arrivals in Western U.S.
A slow, steady stream of migrants is coming in, but even they are starting to make some progress northward. Bell's Vireos, Hutn's Vireos, Lucy's Warblers, Orange-crowned Warblers, and Western Kingbirds were all seen in Arizona, New Mexico, and California, and the swallows (Tree, Northern Rough-winged, and Violet-green) have made it to Nevada, along with the first Hooded Oriole.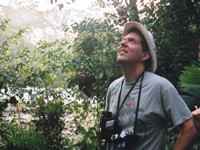 Photo: David Aborn
Dr. David Aborn
Photo: Laura Erickson
Painted Bunting
Photo: Laura Erickson
Western Kingbird
Another cold front is moving across the country, but it is not as strong as the last few we have seen. The lighter winds and less rain will mean that migrants won't be grounded for as long as they were last week.
By the end of the weekend, winds should shift to the south, and all those migrants that have been waiting patiently should be able to take off again. It could be a good time for birders in the Midwest and mid-Atlantic areas!
Out West, the high-pressure areas have moved far enough east that they are already seeing southerly winds, so the steady stream of migrants coming up from the tropics should continue. Birders in central and northern California as well as the Rocky Mountain area should see some of their first migrants.
Spring has sprung, so get ready! It will only get better in the coming weeks!
Take care.
David Aborn
North Chickamauga Creek Conservancy
Chattanooga, TN