Dear Journey North,
Old Man Winter just doesn't want to go away! As I mentioned in last week's report, we got a break over the weekend. Southerly winds allowed migrants that were stuck in the extreme southern US a chance to head north, and some places in the Midwest and mid-Atlantic regions saw their first migrants. Northern Rough-winged Swallows made it all the way to New York, while Louisiana Waterthrushes were sighted in Missouri and Ohio. Here in Tennessee, the first Black-throated-green Warbler arrived.
Weather Bottles Up Migration
Any migrants that did not take advantage of the good flying conditions were quickly left behind. Another strong cold front moved across the country Monday and Tuesday, and that kept migrants bottled up in the south yet again. Eastern Kingbirds and Tennessee Warblers were new arrivals in Alabama, while the first Worm-eating Warbler showed up in Texas. On the Texas coast in particular, there were large numbers of Black-and-white Warblers and Hooded Warblers. One birder on High Island, a very popular birding location, reported that March 24th was one of the "birdiest early spring days" in years, with non-stop warblers and vireos! When that storm system reached the Atlantic coast, it forced 350 Tree Swallows to land in North Carolina!

Texas was the only state to report significant influxes of migrants. Blue-gray Gnatcatchers, Hooded Warblers, and Black-and-white Warblers were commonly seen, along with the first Summer Tanager and Scissor-tailed Flycatcher. Over the last day or two, winds have shifted to the south, allowing a few migrants to continue migrating. The first Louisiana Waterthrushes have been seen here in Tennessee, Black-and-white Warblers, Purple Martins, and Barn Swallows showed up in Oklahoma, and Prothonotary Warblers have arrived in Ohio, but that is as far north as migrants have gotten.
West: Brief Push Before Stall
Out west, southerly winds helped push birds north as well; Cliff Swallows and Wilson's Warblers arrived in Oregon, along with a very early Yellow Warbler. Those conditions were also short lived, and new arrivals have been grounded in southern California. These include the first Black-headed Grosbeaks, Bullocks Orioles, Wilson's Warblers, and Black-chinned Hummingbirds.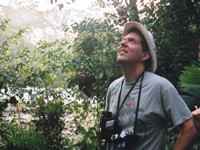 Photo: David Aborn
Dr. David Aborn
Photo: Laura Erickson
Black-throated Green Warbler
Photo: Laura Erickson
Blue-gray Gnatcatcher
A storm system moving across the middle of the country is bringing rain, but not much in the way of strong north winds. This means that for much of the eastern half of the US, migrants will be grounded for a couple of more days. By the end of the weekend or early next week, there should be clear skies and southerly winds that allow birds to resume their migration.
Out West, the situation is not looking as good. Another storm system is moving in from the Pacific Ocean, bringing rain from central California up to Washington State through the weekend and into the first part of next week. That means any new arrivals from the tropics won't be able to get very far before they are forced to land for a while.
I know many of you are anxiously awaiting the arrival of spring migration ( I know I am!), but it will happen. You know what they say: Good things come to those who wait!
Take care,
David Aborn
North Chickamauga Creek Conservancy
Chattanooga, TN