Dear Journey North,
The front I mentioned in last week's report produced a lot of rain, and while it did not last long, it was heavy enough to produce the first official fallout of the season!
Fallout = Great Birdwatching
Many migrants fly across the Gulf of Mexico, which is an 18-hour non-stop flight. They are pretty exhausted by the time they reach the Gulf Coast, but they can keep flying inland for a while if they have good tailwinds. If they encounter rain or strong headwinds, they don't have the strength to fly any farther. In that case, they land very quickly along the coast, and it can look to people on the ground like the birds are falling out of the sky; hence the term fallout. I have seen fallouts myself, and they can be very impressive!
One Fabulous Day
On Sunday (April 6), birders on the Alabama coast tallied 14 species of warblers, hordes of Ruby-throated Hummingbirds, and the first Rose-breasted Grosbeaks of the season. Not to be outdone, birders in Louisiana saw 16 different species of warblers, along with lots of Eastern Kingbirds, and the first Orchard Orioles of the spring. It was the kind of day birders have been waiting for!
South Winds Help
By the beginning of the week, the winds had shifted to the south, allowing a lot of birds to head north again. People in Connecticut celebrated not only 2 national college basketball championships, but also the arrival of their first migrants: Purple Martins, Barn Swallows, and Louisiana Waterthrushes. Those same three species also showed up in Nebraska, while Tree Swallows made their first appearance in Michigan and Minnesota! Yellow-throated Warblers and Blue-gray Gnatcatchers have been seen previously in Ohio, but this week they became more numerous.
Migration Strong in the West
Southerly winds helped push the first Scott's Orioles into Arizona and New Mexico, along with the first McGillivray's Warblers and Lazuli Buntings. Lazuli Buntings were also a common sight in California this week, and Black-headed Grosbeaks also had a strong showing. Strong south winds helped an early Indigo Bunting into South Dakota, and Washington birders reported more Orange-crowned Warblers. The first Rufus Hummingbirds showed up as well.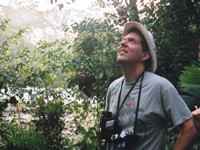 Photo: David Aborn
Dr. David Aborn
Photo: Laura Erickson
Indigo Bunting
Photo: Laura Erickson
Black-headed Grossbeak
Strong high pressure means clear skies and southerly winds for most of the week. While there shouldn't be any fallouts, there will be a steady stream of migrants coming in from the tropics, so for people in the southern US, there should be a good diversity of species, even if there are not large numbers of individuals around. For people in more northerly areas, all those birds that have been landing along the Gulf Coast the past couple of days will be able to make good progress northward, so I expect there will be a lot of first arrival reports in the upper Midwest and New England. The western US also looks pretty good. With similar conditions, there should be a steady arrival of migrants coming up from the tropics.
A cold front is moving into the Pacific Northwest, but it shouldn't slow birds down too much right now. By later in the weekend, that front will bring some rain to the Midwest and Great Plains, and will affect the eastern US by early next week. Right now, it doesn't look like it will slow birds down for more than a couple of days, and then they will be on their way again!
For people in the southern US, spring migration is approaching its peak. For those of you farther north, it is just getting cranked up. Either way, you cannot lose!
Take care,
David Aborn
North Chickamauga Creek Conservancy
Chattanooga, TN