James C. Leupold - USFWS

Home Page
Challenge Questions


Today's News




Spring's Journey North




Report Your Sightings


Search Journey North
return to:



A/CPB

Robin Migration Update: February 17, 1998
Today's Report Includes:
---
Results: 1998 Winter Robin Round-Up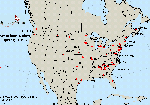 Where are robins found in the winter time? The results are in. According to Journey North observers, over-wintering robins were seen at the following locations during the 14 day census period. After marking these sightings on a map, prepare to add sightings of migratory robins over the next weeks. How do you interpret the results?
---
Comments from Observers
02/03/98
Houston, Texas
"This morning at 7:30am every tree was full of Robins. The noise was deafening. There were 4 students assigned to each tree (8 trees). Each group counted the birds that they saw in their tree. We came up with an estimate of 1740 birds. It was amazing. When the school bell rang it scared them and they began to fly. What a sight!! The students' commented on how you couldn't see the sky."
duker@math.rice.edu

02/13/98
Raeford, North Carolina
Mr. Abele's fifth grade class at Upchurch Elementary School spotted approximately 100-200 robins that visited their school on Wednesday February 11, 1998. On Friday February 13, 1998 four students armed with a digital camera and camcorder sighted more robins in a field approximately 1/2 mile from our school.
abele@foto.infi.net

---
The Robin Migration is About to Begin!
The migration through Texas should begin any day according to Mr. Aschen who reported from Port Lavaca, Texas, "We usually have vast numbers of robins come through the Mid-Coast of Texas between mid-February and the 1st of March. There are some robins that seem to over-winter between here (Port Lavaca) and Houston where the youpon and other berries are so thick... but here they just suddenly appear from the south. Four years ago they came up the bayou near my house in swarms for three days. They were flying low, windshield level, from due south to due north. The following mornings when I went to school where highway 35 crossed the bayou there would be many robins hit by cars." (heaa@tisd.net)

Just last Friday, Mr. Barton's class in Gainesville, GA had not seen any robins. "We will keep our eyes opened for them," they promised. On Sunday the 15th Mr. Barton reported, "Hundreds of Robins passed by today. The pasture around my house was covered with robins." (mmb1984@aol.com)

---

Report Your Robin Sightings to Journey North!

Journey North's Robin Migration Study Begins Today

It appears that the Robin migration should soon be underway. To track the migration, all Journey North participants should be ready to report their FIRST sighting of a robin. If robins over-winter in your area, please report the first wave of migratory robins passing through your region.

---
How to Distinguish Resident vs. Migratory Robins
Although you can never be certain, the robins' behavior reveals helpful clues. During migration, robins travel in flocks and usually don't stay in one place for long periods. They also exhibit what's know as "migratory restlessness", an almost hyperactive behavior similar to a person who's eaten too much sugar. Migrants generally seem more wary than do resident birds. For example, sudden movements such as slamming a door will cause them all to take flight.

Liz Grimes of High Point, North Carolina reports, "Robins winter-over in our area, but once spring really starts settling in, we will see an increase in sightings and large flocks. Right now we mostly see single birds at a time." (jgrimes@infoave.net)

From Colorado, Kathleen de Russy reports visual differences between robins that breed there vs. those over-wintering: "At our campus in Denver the robins are here all year. We know they are not the same ones of course. The winter birds are huskier and larger in size than the summer birds. The summer Robins left around Halloween. The winter residents started arriving very soon after that." (der1213@hotmail.com)

---
Students Answer Challenge Question #1
Where do you think the robins that breed in your area go for the winter?

"We think that in Fairlee, Vermont in the winter the robins migrate to Florida and Georgia," said Shavon and Adam of Ms. Acker's class. (aackefel@pop.k12.vt.us)

Mrs. Min's students in Crystal Lake, Illinois interviewed neighbors who knew about birds and checked printed resources. "We at Hannah Beardsley believe that of the robins that breed here, 10% of them will stay here in Crystal Lake. Of the 90% that leave, we believe that 20% of those 90% will stay here in Illinois. The rest we think will fly down to Louisiana, Alabama and Mississippi." (amin@mc.net)

---
Analyzing Banding Data from the Bird Banding Laboratory
Nobody has ever ridden with a robin, so how do we know where they go? We contacted Alan Davenport of the UFWS Office of Migratory Bird Management in hopes of learning what banding data show about robin migration. Mr. Davenport has graciously supplied hundreds of REAL BANDING records for you, records that people have been collecting about robins for several decades. Using the latitude and longitude readings, shade the area where most robins from your region seem to go. Then chose a nearby state or province and compare.
---
Spring Fever: Testing a Theory About Robin Migration
This spring, your class can test an age-old theory about robin migration by asking, "Is it true that robins arrive when the 'isotherm' reaches 36 degrees F?" The word "isotherm" means "same temperature". It is an imaginary line that connects places which have the same average temperatures. The isotherm migrates across the continent as temperatures warm in the springtime. You can test whether robins travel with it.
---
Challenge Question #2
Read the above instructions for testing this theory about robin migration and temperatures. Then see if you can answer today's Challenge Question:
Challenge Question #2
"Why do you think it would make sense for robins to migrate with the 36 degree isotherm?"
How to Respond to Challenge Question #2
1. Address an E-mail message to: jn-challenge-robin@learner.org
2. In the Subject Line of your message write: Challenge Question #2
3. In the body of the message, answer today's Challenge Question.
The Next Robin Migration Update Will be Posted on March 3, 1998.

Copyright 1998 Journey North. All Rights Reserved.