Photo: Operation Migration


Meet the 2009 Whooping Crane Chicks!
Hatch-year 2009 of the Eastern Flock


Crane # 901

Date Hatched

May 3, 2009

Gender

Female

Egg Source

Patuxent Wildlife Research Center

Permanent
Leg Bands

(Attached after reaching Florida)




Left Leg
Right Leg
radio antenna




Read about the naming system, hatch place in Maryland, release site in Wisconsin, over-wintering site in Florida, and leg-band codes.
Personality, Early Training
Notes from the captive breeding "hatchery" at Patuxent WRC in Maryland:
Click
for video by Operation Migration
Chick 901 is the oldest and, although a female, the biggest.
See this video of 901's second time in the circle pen! Brooke (with 'robo-crane') leads 901 from her outside pen to the circle training pen. The little chick is focused on the puppet head as she follows along. After leading the chick into the circle, Brooke closes the gate and starts the engine of the training trike. The chick startles at the sudden noise, but quickly goes back to pecking around for yummy mealworms. Notice that as soon as 901 starts to lose focus, the puppet drops more mealworms to quickly get back her attention.
By sheer size 901 is is the dominant chick in Cohort One (the group that includes the 9 oldest chicks). She rarely throws her weight around and rules the roost by her mere presence, says Bev. On June 14 chick 906 challenged 901. By both age and pecking order/hierarchy, the young male is right in the middle of Cohort One. When he challenged leader 901, he luckily got nowhere — because he backed down from the taller 901 before she was tempted to pummel him!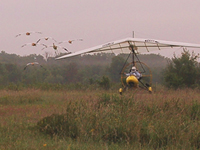 Cohort 1 FLYING Aug. 17! Photo Bev Paulan, Operation Migration
Notes of Flight School in Wisconsin:
She was flown to Wisconsin with Cohort #1 chicks on June 25. When they were finally led into their new pen, the tired 901 took a nap. When she awoke, she seemed right at home! Most of the chicks pecked at their new leg bands or even the bands of other chicks. She and 910 had a staring contest while they were standing next to each other at the feeder, but one of them backed down and wandered away. That was as close as they came to a conflict. All was peaceful on Day 1 in Wisconsin, but in the next days #901 had a cough and respiratory problems. Her health is being carefully watched. Like all the chicks in cohort one, she was flying by July 20. By early August cohort one was flying circles over the training areas. By mid-August they were flying larger and longer circuits. By the end of August she not only a strong flyer but healthier too.
First Migration South: Chick #901 (and 14 others!) turned back to Necedah NWR when the Class of 2009 left on their first migration on October 16, 2009. They all had to try again the next day to follow the ultralights to the migration's first stopover site, where five flockmates landed on Day 1. Find day-by-day news about the flock's migration and read more about #901 below.

Oct. 27: Today chick 901 was a great follower, flying to Stopover #2 with six flockmates and Richard's ultralight. This photo was captured from the CraneCam soon after their arrival. Many crates were used today!

Nov 1: What's up? Chick 901 was slow to exit the pen on today's great flight to Stopover #3. Maybe it's because she knew she could have Brooke's plane almost all to herself.

Nov 20: Crane 901 was one of the 16 who flew off on this exercise day and didn't come back! The 16 flew more than 15 miles before Richard located and caught up to them. He then turned them on course and led them to safe landing at the next planned stopover. Until today, this has never happened since the pilots began leading whoopers south in 2001.

January 20, 2010, Day 89: Migration complete for the "Chass 10:" #901, 903, 904, 905, 907, 913, 919, 924, 927, and 929! Female 901 flew all but 4 miles of this migration!

Photo: Sara Zimorski, ICF

Winter at Chass NWR: Sara explains why you must pay close attention to 901's leg bands. Both 901 and 924 have WGR bands, BUT the transmitter and bands are on opposite legs, making each bird's code a unique and separate banding code. On which leg are 901's WGR bands?

The nine remaining chicks at Chass (#903 disappeared) with adult pair #105 and #501were beginning to show signs of migration restlessness on March 13. Eva said, "It was a windy night and they continued to fly around, land, fly around, land, fly around, land…well, you get the picture. This is typical behavior for the chicks before they decide to head back north. Although it would be a little on the early side for them to be leaving this week, we are not sure if the adult pair will entice the chicks to leave earlier than they would otherwise."
Spring 2010, First Journey North: The "Chass 9" crane kids (901, 904, 905, 907, 913, 919, 924, 927 and 929) began migration on April 5 at 10:00 a.m. With them were subadults 824, 827 and 830. While they did not remain in one group for the whole flight, they ended up landing together in Grady County, Georgia around 6:00 p.m. The Chass group, now minus #907, who took off on her own in the early morning, continued migration on April 6 and roosted that night in Jackson County, Alabama, only 10 miles from the Tennessee border, and 285 miles from their previous stop. On April 7 they flew 250 miles to Orange County, Indiana where they dropped out early because of deteriorating weather conditions. The group of 11 continued migration to Porter County, Indiana (southeast of Chicago), on April 9. Here they split into a group of eight (#824, 827 and 830, 901, 904, 905, 924 and 929) and a group of three (#913, 919 and 927). Both groups continued migration the next day (April 10), when the group of eight made it home. Their signals were detected the next day, April 11, on Necedah NWR: migration complete!
Fall 2010: Female crane #901 was found dead during an aerial survey in Adams County, Wisconsin on December 1, reported tracker Eva Szyszkoski. Date of death has not yet been determined but it may have been on or before November 26. On that date, radio signals of 4 other cranes in this group, probably in flight, were detected near Janesville in Rock County, WI. The crane's body was spotted by Wisconsin DNR pilot Bev Paulan, who was doing an aerial wolf survey at the time. The scavenged carcass was recovered so a necropsy could help determine the cause or date of death.
Back to "Meet the Flock 2009"