Dear Journey North,
Another spring migration is coming to an end, at least for some of you. For most of the country, there have been clear skies and southerly winds, so many migrants have been able to make a lot of progress north. The only glitch came with the cold front I mentioned last week. I said that it would not be a problem, but the front stalled, so it has been bringing rain to the Great Lakes area and some of the Great Plains. Despite the weather, there has been a lot of migration going on. A week ago, a local birder — one of the best in the country — did a 'Big Day' where he spent dawn to dusk seeing how many species he could see in the county. He finished with a new record of 139 species, including 29 species of warblers! Many of those birds did not stay long, taking advantage of the good weather.

On the Move
Up in New York, birders saw 15 warbler species, and Black-throated-blue Warblers, Blackpoll Warblers, Baltimore Orioles, and Rose-breasted Grosbeaks made it into Vermont and Maine. In the Midwest, 18 warbler species were seen in Minnesota over the past couple of days, including the first Canada Warblers and Blackpoll Warblers. Many warblers, orioles, and grosbeaks have also arrived in the Dakotas. Migration has really slowed in the southwest, but is going strong in the Rockies and Northwest. Cassin's Vireos, Townsend's Warblers, Western Kingbirds, and Swainson's Thrushes have been common sights in Montana, while Olive-sided Flycatchers, Lazuli Buntings, and Yellow Warblers made their first appearances in Idaho and Washington. Migration has even picked up all the way in Alaska, with the arrival of Violet-green Swallows and Hammond's Flycatchers. 
 
International Migratory Bird Day
Saturday, May 9th, is International Migratory Bird Day — a time when people all over the world can learn about birds and migration. This year's theme is "Restore Habitat, Restore Birds." Habitat is where an animal lives, so without habitat, they have no home.  There are many efforts all over the country to try to protect and restore habitat for birds so that we can enjoy migration for many years to come! There are many events happening all over the country to celebrate and I am sure there is something going on in your area!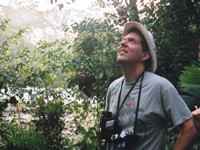 Dr. David Aborn
David Aborn
Blackpoll Warbler
Laura Erickson
Swainson's Thrush
Environment for the Americas
International
Migratory Bird Day
Test Your Weather Skills: Predict how conditions may affect migration!
The stalled front over the northern part of the country is expected to break down, which means there should be more movement this week.


A storm system developing off the Florida coast could create problems in the eastern US.


Depending on how the storm system moves, it could bring rain to the southeastern US, which would keep birds grounded. If it stays off shore, then good flying weather should last until the weekend, when another front from out west moves in.
I hope you have learned from my reports. Feel free to contact me if you have any questions, and have a great summer! Take care,
David Aborn
North Chickamauga Creek Conservancy
Chattanooga, TN