Only Four Days Left To Participate in the Monarch Blitz!
Participate in the 6th International Monarch Monitoring Blitz from July 29–August 7. Report your monarch and milkweed observations to Journey North.
2022 International Monarch Monitoring Blitz
Please keep participating the 6th annual International Monarch Monitoring Blitz. 
During the Blitz, from July 29–August 7, report your observations of monarchs (all stages) and milkweed to Journey North. Due to monarchs' large range during the summer months, volunteer observations are critical to our collective understanding of monarch populations and habitat at this time of year. 
And in the wake of the International Union for Conservation of Nature recently listing the migratory monarch as endangered on its Red List of Threatened Species (note: monarchs are not listed under the U.S. Endangered Species Act), your participation is vital now more than ever!
Resources
Report your monarch and milkweed observations»
Learn how to participate: view and download our instructional flyer»
Read the Monarch Blitz press release»
Learn more about the Monarch Blitz»
Please Note
Because migratory species start their fall migration in August, the Journey North reporting categories and interactive maps are now primed to showcase the fall migration phenomenon. You can still view Journey North spring migration observational reports displayed on our interactive maps by following these simple instructions.   
Instructions for viewing spring migration maps 
Step 1: Go to Journey North Maps. Notice that these maps are set to display Fall 2022 migration data. 
Step 2: Use the seasonal dropdown menu to select Spring 2022 migration season (or any previous season/year of interest).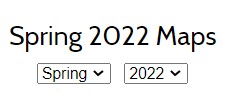 You will now be able to select the map of interest.