Photo: Operation Migration


Meet the 2009 Whooping Crane Chicks!
Hatch-year 2009 of the Eastern Flock


Crane # 905 (5-09)

Date Hatched

May 6 , 2009

Gender

Female

Egg Source

Permanent
Leg Bands

(Attached after reaching Florida)




Left Leg
Right Leg
radio antenna

Read about the naming system, hatch place in Maryland, release site in Wisconsin, over-wintering site in Florida, and leg-band codes.
Personality, Early Training
Notes from the captive breeding "hatchery" at Patuxent WRC in Maryland:
On her first trips outdoors with a few of the other chicks, the costumes/trainers saw that 905 cared about nothing but catching and eating worms!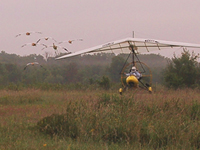 Cohort 1 FLYING Aug. 17 Photo Bev Paulan, Operation Migration
Notes of Flight School in Wisconsin:
She was flown to Wisconsin with Cohort #1 chicks on June 25. When they were finally led into their new pen, #905 cried nonstop. "Where am I? This doesn't look familiar! Where are the earthworms?" The rest of the chicks mostly ignored her, although they sometimes would halfheartedly join in and peep once or twice. Maybe they were too tired to protest, as they all took a nap — but not #905. She kept crying! The others awoke from their naps, and 905 eventually settled down and slept. By the next morning she was back to normal as if nothing had ever happened.
She paid good attention in training sessions and was flying by July 20. By early August all of cohort one was flying circles over the training areas. By mid-August they were flying larger and longer circuits. What a beautiful sight! Crane #905 is just happy to hang loose and do what's expected of her. She fits right in and doesn't give the team any worries. She is dependable and a good flier and follower of the ultralight.
First Migration South: Chick #905 (and 14 others!) turned back to Necedah NWR when the Class of 2009 left on their first migration on October 16, 2009. Chick 905 and 925 both landed at one of the old pens on Necedah NWR. In a surprise move when the winds calmed in late afternoon, pilots Richard and Chris tried to get these two birds to follow the ultralights to join up with chicks who had landed at a second old pen site on Necedah. The two birds did so well that the pilots kept going—all the way to the migration's first stopover site. Cranes #905 and 925 finished the day with the other five flockmates that made it to stop #1 earlier in the day. Find day-by-day news about the flock's migration and read more about #905 below.

Oct. 27: Today chick 905 was a great follower, flying to Stopover #2 with six flockmates and Richard's ultralight. She's doing much better! This photo was captured from the CraneCam soon after arrival of the seven "leaders."

Nov 1: Chick 905 was slow to exit the pen on today's great flight to Stopover #3. As a result, she (and also-slow 901) had Brooke's wing all for themselves.

Nov 20: Crane 905 was one of the 16 who flew off on this exercise day and didn't come back! The 16 flew more than 15 miles before Richard located and caught up to them. He then turned them on courseand led them to safe landing at the next planned stopover. Until today, this has never happened since the pilots began leading whoopers south in 2001.

January 7: Crane 904 led most of the first leg on this double-leg day before 906 took over. But 906 kept diving below the wing, and leading the rest of the birds with him. Richard said, "I guess 905 disliked this behavior, as it made the birds at the back of the line work harder, and decided to take the lead away from 906." She broke out from the back of the line and out of the slipstream, charged ahead past all of the other birds, and butted in front of 906 to take the lead!

January 20, 2010, Day 89: Migration complete for the "Chass 10:" #901, 903, 904, 905, 907, 913, 919, 924, 927, and 929! Female 905 flew every single mile of this migration without ever being boxed and driven!

March 13: The nine remaining chicks (903 was killed by a predator) at Chass with adult pair #105 and #501were beginning to show signs of migration restlessness. Eva said, "It was a windy night and they continued to fly around, land, fly around, land, fly around, land…well, you get the picture. This is typical behavior for the chicks before they decide to head back north. Although it would be a little on the early side for them to be leaving this week, we are not sure if the adult pair will entice the chicks to leave earlier than they would otherwise."
Spring 2010, First Journey North: The "Chass 9" crane kids (901, 904, 905, 907, 913, 919, 924, 927 and 929) began migration on April 5 at 10:00 a.m. With them were subadults 824, 827 and 830. While they did not remain in one group for the whole flight, they ended up landing together in Grady County, Georgia around 6:00 p.m. The Chass group, now minus #907, who took off on her own in the early morning of April 6, continued migration and roosted the night of April 6 in Jackson County, Alabama. This was just 10 miles from the Tennessee border, and 285 miles from their previous stop. On April 7 they flew 250 miles to Orange County, Indiana where they dropped out early because of deteriorating weather conditions. The group of 11 continued migration to Porter County, Indiana (southeast of Chicago), on April 9. Here they split into a group of eight (#824, 827 and 830, 901, 904, 905, 924 and 929) and a group of three (#913, 919 and 927). Both groups continued migration the next day (April 10), when the group of eight made it home. Their signals were detected the next day, April 11, on Necedah NWR: migration complete!
Fall 2010: Cranes #905, 907, 42-09 (DAR) and #733 were reported in Shelby County, Alabama, on December 8. Tracker Eva discovered the group again on January 28, 2011. "They are at 733's previous wintering territory from two winters ago down in Polk County, Florida. This was the first time that area had been checked this winter, so they have probably been there for quite some time."
Spring 2011: Female #905 and cranes #733 and 907 and 42-09 (DAR) were reported in LaSalle County, Illinois, on March 24 and resumed migration from this location on March 30. They were found at their previous summering territory in Adams County, Wisconsin, on April 4, migration complete! She built a nest with male #733. Their single egg was collected on June 12 after 40 days of incubation. This is the first time in the Eastern Migratory Population that a two-year-old female has laid an egg.
Fall 2011: Pair #905 (#5-09) and #733 (#33-07) and cranes #924 (#24-09) and 42-09 DAR began migration between Nov. 29 and Dec. 2. They were found in Vigo County, Indiana, during a ttracking flight on Dec. 3. They showed up in Hopkins County, Kentucky at the end of January.
Spring 2012: Pair #5-09 and #33-07 — together with pair #24-09 and 42-09 DAR — completed migration back to their usual summering territory in Adams County, Wisconsin by March 12 or 13. Their previous known location was Hopkins County, Kentucky. They had been hanging out there with cranes #402 and 46-07 (DAR). On March 19, female #905 and her mate #733 were observed in nest building. They were found with a nest on April 2 and it was abandoned on April 7. They were seen with a new nest in Adams County on the April 26 nesting survey flight. They continued incubating after the eggs were full term, and the eggs never hatched: No chicks for this pair in 2012.
Photo: Eva Szyszkoski/ICF, with aerial support from Lighthawk
Fall 2012: Pair #5-09 and #33-07 migrated back to Hopkins County Kentucky in the fall, arriving by November 30.
Spring 2013: Pair #5-09 and #33-07 began migration from Kentucky location around March 20th or so, and completed spring migration to Necedah NWR in Wisconsin by March 31. By mid April they were reported nesting, but the nest had failed by May 6.
Fall 2013: Female #5-09 and her mate #33-07 again migrated south to Hopkins County, Kentucky, arriving about November 14. On Nov. 25 a local resident reported #5-09 as injured, but still able to fly. On Nov. 27 the much weakened #9-05 was rescued and taken to a Kentucky rehabilitation center for surgery but doctors were unable to save her. The scavenged remains of her mate #33-07 were found about five miles away on Dec. 13; investigators believe both were unlawfully shot during the same incident. Federal wildlife authorities had kept quiet about the deaths of these endangered birds while more evidence was gathered, but announced the bad news in a press release on January 15, 2014. They want the public's help in finding the perpetrators and bringing them to justice for their crime.
Last updated: 1/15/13