Let's Connect For Pollinators
Your Patch
January is a time for gardening catelogues. Start planning now for creating pollinator habitats — in backyards, agricultural fields, and public natural spaces; in rural areas and urban centers; and on private and public lands. Together, through all these efforts, great and small, we ensure that annual migrations continue across North America.
When spring arrives, register your habitats with Journey North.
Help us to show the whole "quilt" by participating in our Pollinator Patch mapping effort.
Step #1: Take a photo of your habitat. (Limit: one photo)

Step #2: Submit your photo with a comment describing the plants in your habitat.

Step #3: View the habitat map to explore pollinator patches across North America

Note: Submit your photo and comment as you would a sighting in the Journey North sighting category Habitat Project. You must first be registered with Journey North. To register, please go to our Registration page. Then you will be able to submit your report on our Sightings page.
Journey North Pollinator Patch Sign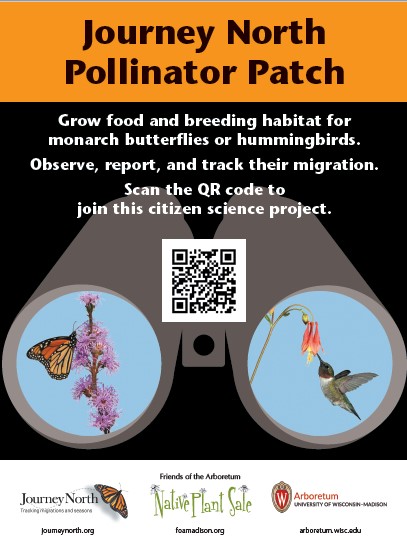 Please download and print our Journey North Pollinator Patch sign. Include this sign in your photo of your habitat on our Habitat map.